One of the common ways that people bond with each other is through socializing while looking after their kids in the kids playground or school or by eating meals together. Knowing this, there is room to be creative and unique by having your own outdoor kitchen to eat in with your friends, family, and loved ones in your subdivision in Cavite. This blog will talk about the benefits of outdoor kitchen design Philippines.
Cooking outdoors is a different experience
Outdoor activities have always been known to boost moods and create a relaxing atmosphere when engaging in productive and positive activities. Hence, cooking outdoors where there is fresh air and open space can be a calming activity to take part in. You can even invite your friends and family to eat meals that have been prepared in your outdoor kitchen to make for priceless memories.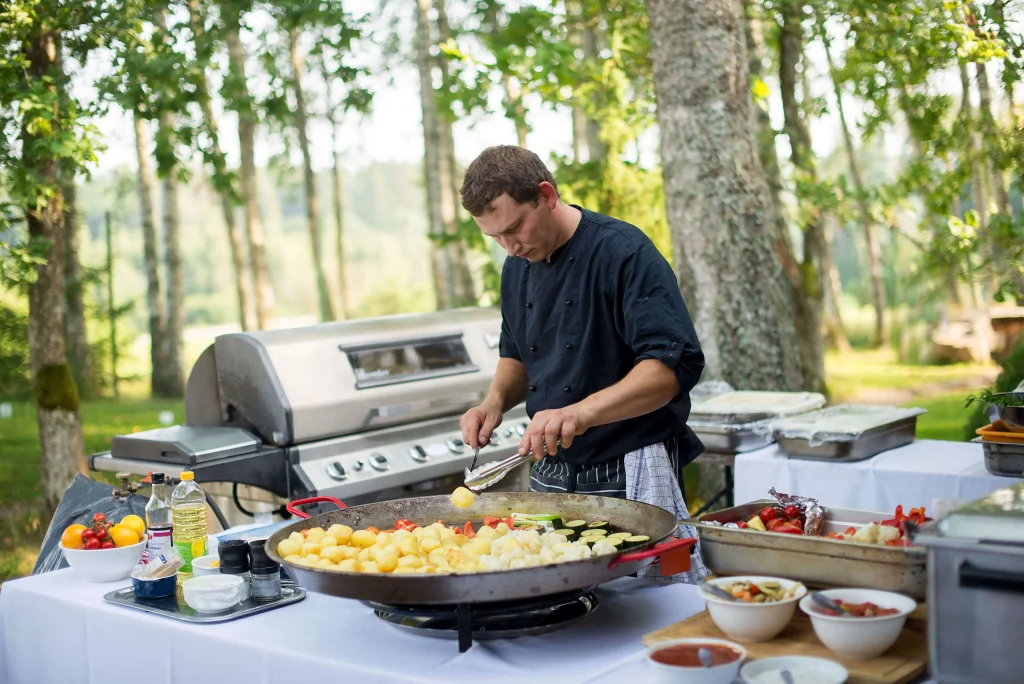 An outdoor kitchen could increase home value
It has been observed that outdoor kitchens are deemed as an added benefit to whatever home possesses an outdoor kitchen. A functional outdoor kitchen made of good quality materials is viewed to have a high return on investment when compared to other projects involving house improvements. Therefore, if you are looking to sell or buy property on the real estate market, having a good quality outdoor kitchen could serve you well in your investments.
An outdoor kitchen is a second kitchen
An outdoor kitchen serves the same purpose as a regular kitchen such that an outdoor kitchen has the appliances necessary for making meals. Therefore, as a second kitchen, it can serve as a backup for when your regular kitchen is undergoing repairs or renovations. Another idea is that both your kitchens could be used for when a big gathering is happening in your house and meals will be served to many guests.
You will reduce energy costs in your house
Energy bills tend to increase in the summer because of the increased use of air conditioners due to the summer heat. And when cooking hot food in an indoor kitchen, the air conditioning units of your house in your subdivision in Cavite use up more energy in order to cool down the air in your entire house. Hence, cooking in an outdoor kitchen can reduce your energy costs by taking the heat outside under the shade without having to make your air conditioning system work extra hard.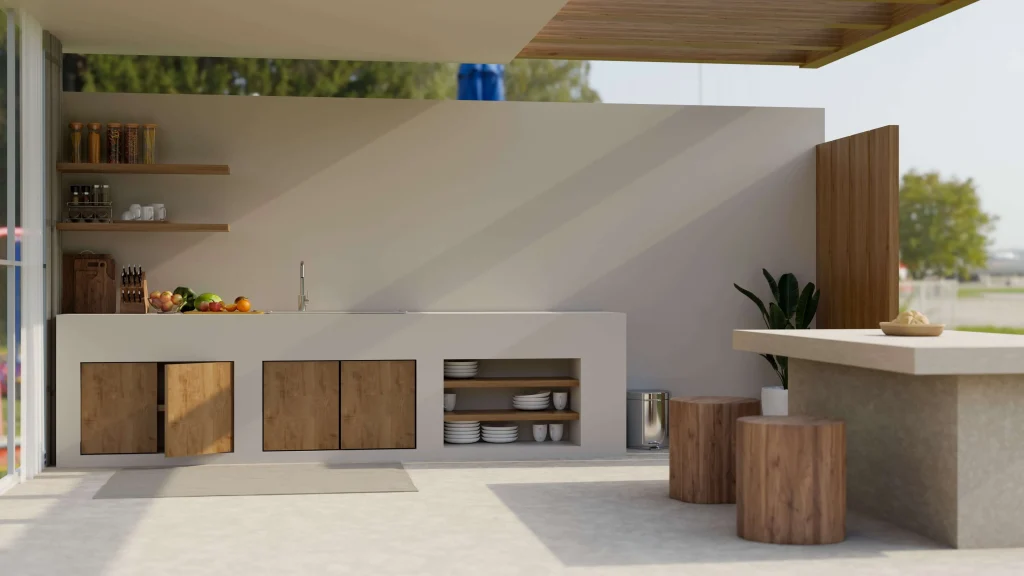 You can integrate an outdoor kitchen with a lounging space
When having guests stay at a lounging space, it is common for the homeowners to serve the guests food depending on the occasion. For celebrations in particular, an outdoor kitchen will be of great use that takes advantage of being situated outside the house. Examples of ideas for enhancing your outdoor kitchen as part of a lounging space are to have an area with a built-in grill, fire pit, pizza oven, dining space, mini fridge, or bartending area to foster socialization amongst guests.
Outdoor cooking can provide entertainment to guests
Kitchens in an indoor space have guests wait in a lounging or living area while the cooks stay in the indoor kitchen to prepare the meals to be served. For an outdoor kitchen, the cooks can cook in the same outdoor space that the guests and household members are in, providing nice entertainment for the household members and guests to watch how the food is being prepared. The ambiance this kind of environment creates will make for a more sociable vibe.
Outdoor kitchens can be flexible
The use of an outdoor kitchen is not limited by what season of the year it is. Whether it is winter, spring, summer, or autumn, an outdoor kitchen with a working ventilation system can be an appropriate area to prepare and serve meals. Because of this, outdoor kitchens serve as multipurpose areas where you can dine with multiple people no matter the season.
Outdoor grilling can make for tasty food
When it comes to cooking outdoors, grilling is a popular option since it keeps the smoke away from the indoors while making delicious food. When it comes to grilling food that creates a strong smoky yet tasty smell, an outdoor kitchen is sure to serve you well when it comes to this kind of activity.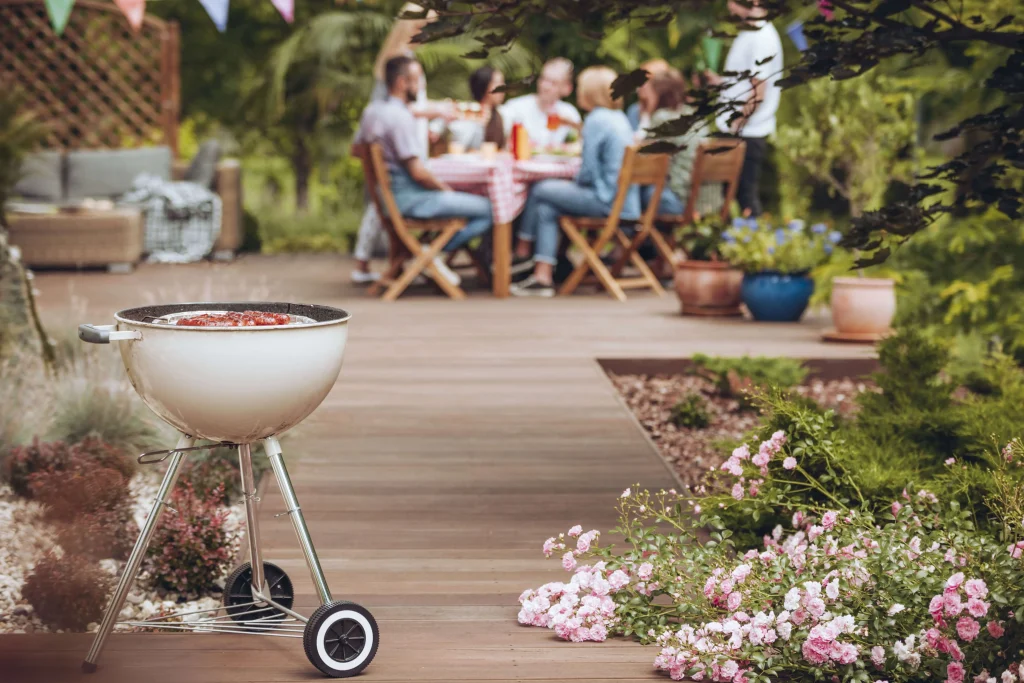 Outdoor kitchens cause an added resale value to the property
Outdoor spaces are a factor in increasing the resale value of properties. Therefore, an outdoor kitchen set up in the backyard of a house in a subdivision in Cavite could make for an eye-catching offer for home buyers and those who are looking to purchase properties for sale. A good functional outdoor kitchen can even be considered a luxury if done well.
Cooking outside makes the smells stay out of the house
Cooking in a kitchen is sure to produce food smells. And in an indoor kitchen, it is possible for these food smells to stick to clothes and furniture. These smells could stay in your kitchen for days if you don't have a ventilation system that is working very well. Therefore, an outdoor kitchen is a good solution to this problem by having the food smells from your prep station stay outside of your house, making the smells go away easier.
Outdoor kitchens provide convenience
An outdoor kitchen provides convenience primarily because cooking outside takes away the need for indoor ventilation that is supposed to keep smoke out. Apart from this, however, is the fact that an outdoor kitchen is typically more spacious than a regular kitchen, giving you more than enough space to move around in with more people to cook with. Although, the layout and flow of how your outdoor kitchen is organized will play a big role in convenience.
Cooking outdoors is an alternative to restaurant dining
It is common for people to go out and eat at restaurants as a way to spend time together or hang out. When you have an outdoor kitchen, on the other hand, the outdoor atmosphere of the outdoor kitchen will make you feel as if you are already eating out. This ambiance is furthered by how the people that will eat the food and the ones cooking the food will be in the same outdoor space together. A setup like this is creative and scenic depending on how the outdoor kitchen is laid out or organized.