The world isn't just black and white anymore. It is long been covered and painted in different hues, from the brightest to the darkest one. And as you plan to purchase a lot for sale in Cavite and finally tick off having your own space on your bucket list with various plans already sketched through your mind, the next thing that you need to think about is the interior of the house. There are various styles that you can try which are highly based on your preferences.
If you are leaning more toward a clean and simple design style, then the minimalist style is for you. If you like a raw urban or warehouse type, then you might want to consider industrial interior design. But if you are the bold type of person who wants to play around with different vibrant colors and textures whilst achieving a cohesive look, then maximalist interior design got your back!
Maximalism is a type of style that combines various bold colors with different textures that makes a living space more alive and bright. Some may argue that maximalism is just about piling pieces of stuff or decorations which makes the design noisy or scattered but it is not. Maximalist style revolves around patterns, arts, unique furniture, and experimenting with different loud paints that complete the look of a certain area in the house.
And as someone who wants to try and make this maximalist design work, here are some ways how you can incorporate maximalism in your lot for sale in Cavite.
Ways to Incorporate a Maximalist Interior Design in Your Home:
Photo from havenly.com
Incorporate YOU!
Above everything else, the road to achieving a maximalist home starts with you. Think of a particular theme that you want to go with. This will be going to be your new home so might as well incorporate things that represent yourself. It does not only practice self-expression but also allows you to enjoy the things that make you happy. In addition, it also makes everything functional because you'll be decorating your home with things that you find useful.
But since you are going to put so much stuff which is the essence of maximalism, you might want to make sure that everything shares a common denominator, from its color to the whole interior of the place. This creates a cohesive look that makes everything in your house connected.
Explore colors
One of the keys to achieving maximalist design is going all out in your color choices. Professionals like interior designers pay extra attention to the colors for they will either make or break the vibe of your home. It is important that you select a specific color palette that will be used for your entire home. Choosing the right and effective colors will help on exuding the aura and vibe that you want your house to emit.
Choosing rather brighter colors is a bold move! Curate your own color palette and start giving life to your home. In maximalism, there is no such thing as too much which gives you much more room to experiment with the colors that you want.
Play with Patterns & Textures
Maximalist interiors highly play around with different patterns and textures. As society began accumulating wealth with much more disposable income, everyone is starting to invest in their home, including buying kinds of stuff uniquely patterned with unusual textures.
To achieve that maximalist space, veer away from plain-looking accessories. Incorporate things like curtains, pillows, sofas, rugs with animal prints, or other statement pieces with loud and clashing patterns and textures. You can also incorporate patterns into your window treatments, adding more individuality to your home. Maximalist decor style usually dwells on anything that clashes and catches someone's attention but you should not forget to find the balance within everything. There is nothing too much in maximalism but a balance of everything makes your home complete and aesthetically pleasing.
Show and Tell
This is the perfect time to hang your meaningful and significant art and decor on your wall. Showcase your keen eyes for unique art pieces and your talent for painting beautiful portraits and sceneries. In maximalism, you can hang all of your artwork and wall decor and no one will say anything about it because the whole essence of maximalism is going all out.
Allot a specific wall for everything that you want everyone to see once they visit your place. You can also find numerous printed posters online, have it framed, and place them on your gallery wall. It can also be pictures of your family, friends, or a memory you'd like to keep and remember forever. There are totally no restrictions. Display your personal style through your walls.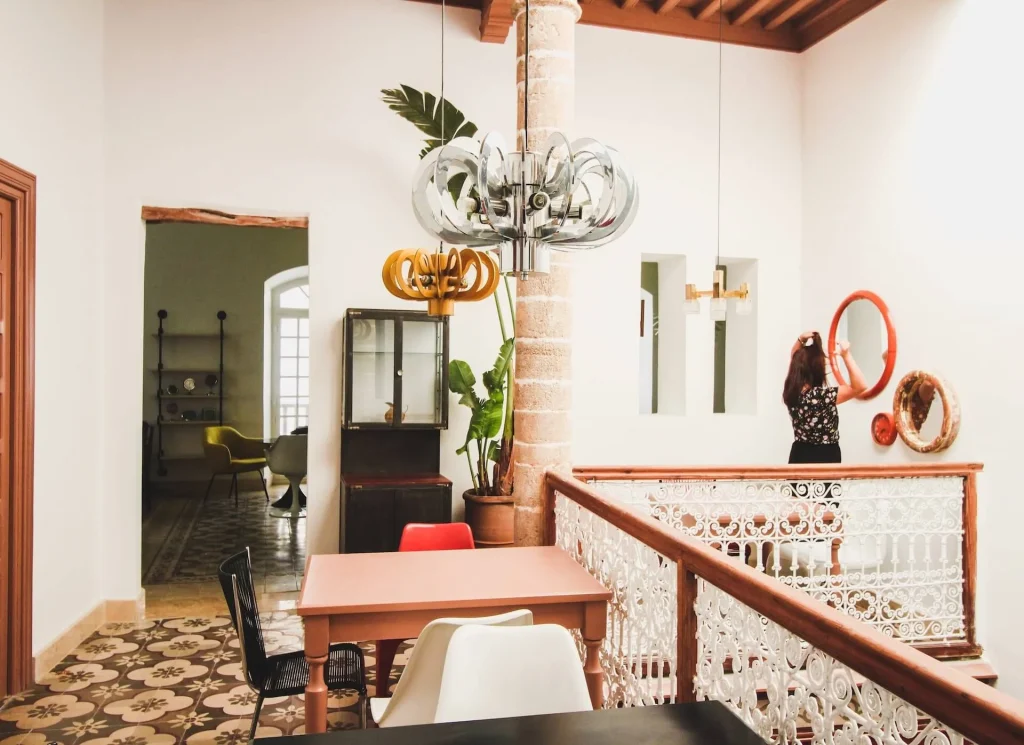 Mix & Match old and new pieces
The focal point of maximalist styles is to mix and match old and new pieces of furniture whilst maintaining their functionality without sacrificing comfort.
Create a combination of modern furniture and decor that makes your place fresh and clean-looking and vintage pieces with timeless aesthetics. A great example of vintage decor and furniture can be found in the Victorian era. You can look for design trends online and collate inspirations from them.
Brighten the space with Decorative Lights
Light fixtures and decorative lamps add up to the whole aesthetic and feel of your home. You can never have too many lamps. Light fixtures set up the mood of a particular space plus they can be used as a decoration itself. With various unconventional designs available nowadays, you can definitely find one that sparks your interest.
But do keep in mind that it is still important to have that consistency. Make sure that your lamp or light decorations are still connected in a way that even though the design is loud, it's still striking.
Go big on your home
If in minimalism, the highlight is on things that make your home space clean and simple, maximalism is everything but a little bit more exaggerated. This means that maximalist spaces, such as your dining room, can be decorated with large furniture pieces, bold wallpaper, side tables with unusual designs, painted ceilings, or other decors that can help you attain that maximalist look.
This style gives you a free pass to overly decorate every part of your home, spicing things up from your living room up to your bedroom and even on your bathroom. Literally, go big or go home! You can always consult with an interior designer if you are looking for something different with your maximalist interior design.
Read more: Top Interior Design Trends for 2023