One of life's greatest pleasures might be moving to a new home, but it can also be a period of instability, particularly when it comes to designing. People design their house and lot for sale in Bacoor Cavite to appear at its best and express their unique sense of style.  If executed right, the house will be cozy and joyful. Poor execution will result in a mishmash of furnishings, fabrics, and paint colors that cannot come together to form a visually appealing whole. People will have a lot more success if they plan ahead and take the same actions that experienced interior designers do.
The designs at home are numerous and constantly changing. While some of them are passing trends, others are eternal masterpieces. Each design has a unique set of furnishings, decorations, lighting, and other accents that contribute to its particular appearance. People should have a better understanding of what styles appeal to them and suit their preferences if they familiarize themselves with some of the most prominent options. It is better to keep an eye out for the design aspects and inspirational pictures that capture their notice.
Choosing Your Home Design
A considerable approach is involved in developing a decorating style. However, when anyone starts spending money on their rooms, it is definitely worth the effort to determine their personal decoration and design preferences.
By mastering how to select a design aesthetic that complements his style, one can confidently decorate a house with items that will both look lovely and bring him joy. Stop wasting time and money on items that make you feel uncomfortable whenever they are brought to your home.
Similar to the manner that the internet is a vital component of education, furniture is important to interior design. For instance, a house and lot for sale in Bacoor Cavite may not be as orderly or as pleasing as the ideal house if there is not enough furniture in this home. This is significant since furniture is what gives spaces their character and interior design is dealing with the appearance of spaces.
To facilitate human activities, furniture is a product of commercial or handcrafted design. Furniture that is modern, old, built-in, specially designed, or already constructed is used by interior designers. Each furniture piece is designed with the demands of the receiver in consideration. How a furniture piece should be used, such as sleeping on beds, eating at tables, or sitting on chairs, depends on its purpose.
However, other than its purpose, the upholstery of the furniture must be thought of.
What Is Upholstery and Why Does It Matter?
The option of upholstery is always available, and it will give the furniture a special touch. The term "upholstery" alludes to the softer parts of the furniture, such as cushions, padding, seats, slipcovers for beds, etc. This can also be the webbing and other supporting materials required to finish a specific component.
Although the inside components may not be apparent, they have a significant impact on how comfortable the piece is. Purchasing high-quality inner layers can guarantee that the item lasts for the coming years, even if the fabric can always be altered and may have to change, depending on the amount of use.
The Best Upholstery Fabric Choice
Select a material that blends well with the furniture piece and the house's interior design. The choice of cloth should complement the design and personality of the item it is wrapping. For a conventional-style frame, for instance, a traditional fabric is a safe bet. That being said, go for it if you have an experimental sense of style and the knowledge to combine two apparently different trends. With this strategy, your place will have more distinctiveness. A wing-back chair with a geometric pattern on it is one instance of that unanticipated choice. In order for the print to blend in with the rest of the decor, this example works best in a modern area where the wing-back chair serves as a highlight.
If you opt to buy upholstery fabric online or in person, these are some of the best fabrics that you may try: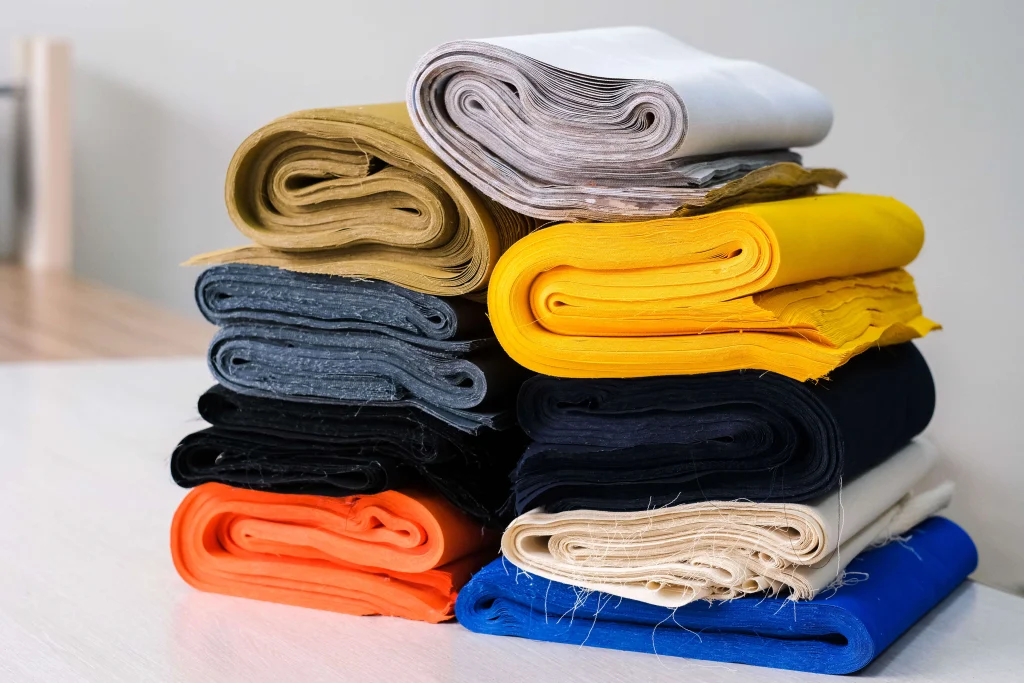 Cotton and Cotton Blend
Due to its softness and durability, cotton cloth can be a fantastic choice for upholstery. The  100% cotton fibers are used to create cotton fabric, while cotton and synthetic polyester fibers are typically combined to create cotton blend fabrics. Despite having both advantages and disadvantages, it's a fantastic all-purpose upholstery option.
One can make the cloth more resilient to stains and more durable by selecting a cotton/polyester blend. Additionally, cotton is prone to aging, so it's best to use white cotton or a cotton/polyester blend in sunrooms and other areas that get a significant amount of sunlight to prevent receding.
Leather
Among the most popular and extensively used upholstery materials is genuine leather, which is actually dried animal skin. Each and every room benefits from the material's opulent appearance and air of grandeur. When one sits on it, it is confirmed to be another wonderful upholstery fabric that is refreshing to the touch skin. On couches and sofas, it is most frequently utilized. Because of its soft feel and exquisite appearance, leather is a favorite among many people. Outside furniture is not really a good fit for it; it's really better for inside furniture than indoor upholstery.
Acetate
The fabric constructed of woven cellulose fibers is known as acetate. It is a sort of semi-synthetic fabric. In most cases, it's a less expensive option than more expensive materials like rayon and silk. Although it appears glossy, it feels smooth and velvety to the touch like a soft and comfortable fabric. The fabric is available in a variety of hues and patterns and is quite weightless. It is frequently employed for couches, chairs, and recliners and can be used as outdoor upholstery fabric.
Even though acetate is not quite as durable as other synthetic fibers, upholstered furniture with this material lends style and sophistication to a casual lounge room.
Linen
Natural linen, derived from the flax plant, is frequently combined with synthetic fibers to enhance its properties. Another of the coziest furniture upholstery material available is this one. Additionally, it can offer your furniture a really crisp and clean appearance when used for upholstery. Additionally, it has a very soft texture. For couches and chairs, this durable fabric is frequently used.
It's important to keep in mind that the range of colors available for linen fabric is frequently constrained. Most of them are solid, neutral colors that go well with any decor. However, you will probably need to select a different fabric if you want something more colorful and patterned.
Wool
While people would not generally picture wool as an upholstery fabric, it is frequently employed to upholster couches and chairs. The wool comes from sheep. Wool and wool mixes are strong and long-lasting, and they resist dirt, fading, pilling, and wrinkling well. In order to make wool simpler to clean and to lessen the likelihood that the strands may feel, or get linked collectively until they mirror felt, wool is typically combined with a synthetic fiber. Blends can occasionally be spot-cleaned. It is difficult to clean and frequently advised to just be dry-cleaned, which is difficult to perform with upholstery. Wool is also highly expensive, thus this material is best used on furniture that won't be used frequently.
Acrylic
It is an excellent option, also considered an 'imitation wool' for casual sitting areas because it comes in a variety of vibrant colors. Acrylic fibers are used to make synthetic cloth. Relative to the other fabrics, this fabric is incredibly durable because the fibers are practically a kind of plastic. It is frequently used as a lightweight synthetic substitute for wool or cotton. Since it does not fade quickly from sunshine, its longevity makes it ideal for upholstery that is frequently used outdoors instead of indoors as one of the outdoor upholstery fabrics.
Polyester
Among the most popular upholstery textiles is polyester. This synthetic material is strong, reasonably priced, and available in a variety of hues and designs. To make upholstery materials more durable, polyester can be used with other fabrics. Polyester can also be used outside on covered porches. It will just not be as resistant to mildew and mold as certain other outdoor textiles.