Hailing from the town of Malabon, Michael Cacnio is a graduate and product of the prestigious College of Fine Arts of the University of the Philippines – Diliman. A little known fact about the world-class brass sculptor and 1996 Ten Outstanding Young Men (TOYM) awardee is that he already comes from a family of artists. He is the son of Angel Cacnio, a revered famous painter who designed the previous Php20 and Php 100 Philippine paper bills in circulation.
Cacnio attributes his artistic genes not only to his lineage but to his nature and temperament as a child. His predilection for art was evident when he was still a child in Caloocan where he was born in 1969. He had a unique penchant for viewing the whole area of Malabon and observing it from the rooftop of his grandmother's house. That and the strong influence he had from his father's love for painting had shaped the artist's passion. It was then that he decided to follow his father's footsteps with the brush and easel. After graduating from the University of the Philippines in Diliman, Michael Cacnio officially and professionally debuted as a painter but it was not until later that he found his true calling in the art of sculpting brass where he has learned to create some of his world-famous works. In fact, his worldwide recognition is attributed mostly to his sculpted works.
A pivotal factor that contributed to his switch to the sculpting arts was the tutelage he had under the National Artist for Sculpture Napoleon Abueva during his college years complemented by the inspiration he had from artists Fred Baldemor, Fernando Amorsolo, Albert Giacometti, and Carlos Francisco. While his initial foray into sculpting was far from perfect, citing that he had difficulty with cutting metals and welding them to his desired figure and suffering cuts and calluses as a result, he sees this as an opportunity to refine his art. Soon enough, he became more adept in handling his art and suffered lesser injuries as a result. His collection of works features a montage of various characters taken from traditional Filipino archetypes which he has delivered in his unique and distinct signature style. Each sculpted art piece resonates with a voice that unmasks and reveals enduring truths about family and the community as well as human nature. After receiving more than well-deserved solo exhibits, his art has achieved critical and commercial success–not only in Asia but in Europe and the United States as well. His success and critical acclaim resultantly gave way to his works being featured in broadcast media and in reputable publications. By 2007, he was the very first Filipino artist given the honor to be featured in a solo exhibit in the European Commission's headquarters in Berlaymont, Brussels.
Today, Michael Cacnio's works have been offered at auctions multiple times at varying price points and with some realized prices ranging from $2341 USD to $18476–all depending on the size and medium of the artwork. After several years of being at the forefront of the Philippine art scene, his position may as well be cast in brass. Today, dignitaries, top corporations, private art collectors, and art events continue to treasure and feature the craft of this sculpting virtuoso.
SIX SCULPTED PIECES BY MICHAEL CACNIO
Mother and Child
The Mother and Child sculpture are undoubtedly one of Michael Cacnio's most famous and revered works. An exemplifying piece of social realism in the Philippines, the sculpture perfectly encapsulates parental devotion and motherly love–two Filipino core values. Using brass as a chief medium, the sculpture celebrates the richness of color and draws attention to the not so decorative but elegant and graceful form.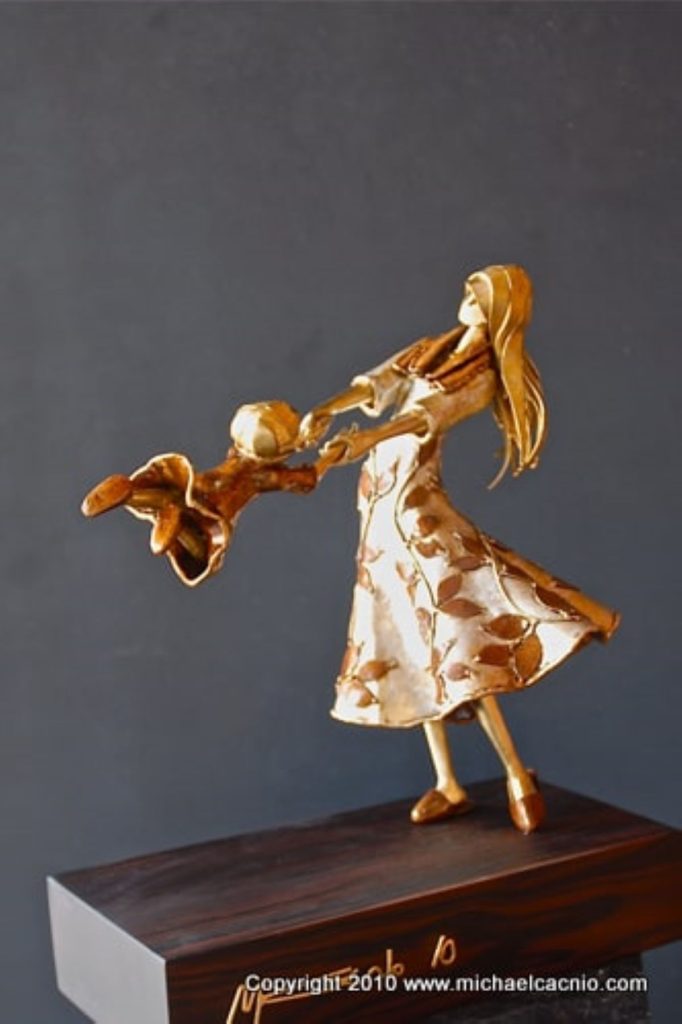 © www.michaelcacnio.com
The Fisherman
Michael Cacnio's depiction of the Fisherman features a three-dimensional heft and palpable intimacy. In this particular piece, he introduces an alert dynamism to the figure's pose, whose outstretched leg balances on a makeshift ladder while the other bent leg is planted on a boulder. Michael Cacnio wonderfully conveys the humanity of the fisherman with his form making this art piece an amazing sight to behold.
The Light of Knowledge
An interesting fact about Michael Cacnio's collection of works is that the widely disparate objects have nothing in common except that they are parts of the whole art ensemble. In this sense, their randomness is an essential aspect of his work. They derive their identity as art from the designation placed upon them by Cacnio and from the social context that comes with the sculpted object–whether that may be a plumbing fixture or a metal human figure reading a book.
Boy with a kite
Using brass as a chief medium, The Boy with a Kite is a sculpture by Cacnio that wonderfully captures motion in sculpted form. While rigid and stiff, the art piece communicates and conveys motion and uninhibited childlike joy in the hobby of flying kites.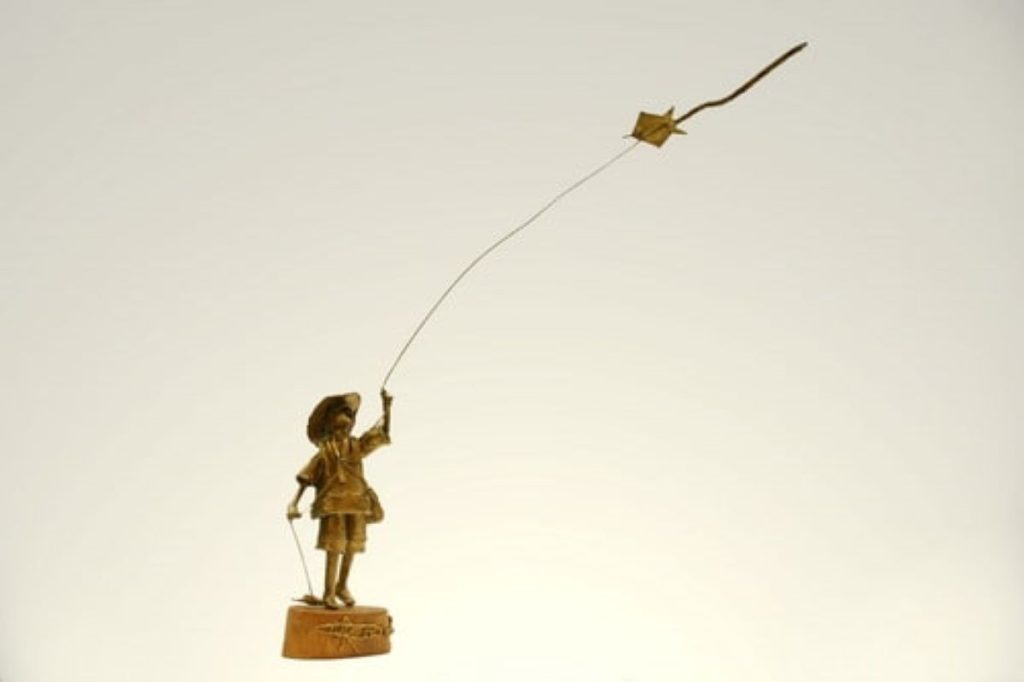 © www.michaelcacnio.com
Bahayan- Munting Pangarap Series
Conjuring a fantasy-land composed of little shanties densely packed and propped up by stilts, the celebrated sculptor conveys a common Filipino dream: A house of their own. However, the elevated position of the shanties may be seen as a symbol of the communion between heaven and earth while the architectural details have an earthbound connotation. Using brass as a medium, the sculptor skillfully and masterfully displays themes that resonate with today's society. This piece, in particular, is delivered in his distinct signature style that reveals enduring truths about human nature, the family, and the community.
Fish Harvest
Revealing enduring truths about society, human nature, rural community, and family life, Michael Cacnio has once again proved that he is the pillar of social realism in terms of Philippine sculpture. The fisherman sculpture features a richness of color attributed to the brass medium used. It addresses the eye with the soaring power of a monument as well as gives it a high note while it draws attention to the elegant and graceful form of the sculpted piece.
If you have a distinct affinity for art and a penchant for displaying them, what better way than to do it than have them add sophisticated flair and elegance to your home? Give your Michael Cacnio artworks the treatment it deserves by setting it up in a home of your own. At Crown Asia, you can show your love for artworks and display them with pride at any of our properties.