Imagine living in any of the two richest provinces in Luzon or cities like Santa Rosa, Tagaytay or even Las Pinas!
Cavite and Laguna are both birthplaces of colorful traditions, beliefs, and unforgettable history. These two provinces also nested some of the well-known heroes whom many people look up to, like Dr. Jose Rizal who was hailed as the Philippine National Hero from Calamba, and Emilio Aguinaldo from Kawit who was the first-ever president of the Republic of the Philippines.
For the past 25 years, Crown Asia, the premium arm developer of Vista Land and Lifescapes Inc., has always been into developing homes and communities that help shape not only beautiful life experiences but also a strong sense of belongingness within its homeowners in places like Cavite and Laguna. These things are manifested through its projects like condominiums, RFO house and lot, and subdivisions which are part of the company's vision to create globally-inspired communities while still ingraining strong Filipino culture. Infrastructure near Crown Asia's properties in Cavite and Laguna such as the Cavite Laguna Expressway or CALAX, give its residents easy access to everything.
The lush, panoramic landscapes and vibrant streets within these provinces were also inescapable that these past few years, young professionals and business owners cannot resist owning an RFO house and lot. Some of the scenic places in Cavite are the enchanting Balite Falls and Museo de La Salle in Dasmarinas, while Laguna never disappoints with its historical Japanese Garden, Enchanted Kingdom, and Mount Makiling.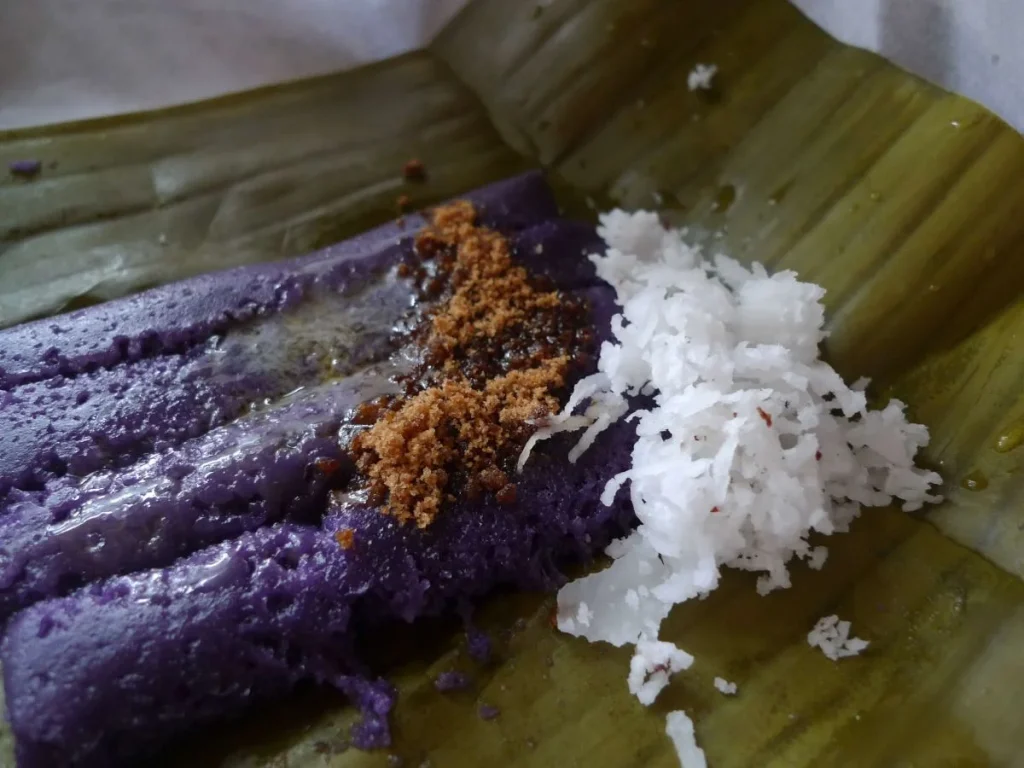 Photo from cnn.com
Cavite and Laguna also take pride in their homegrown local delicacies which were mostly tied to the history of the places or the people in there. From bite-size goodies to mouthwatering dishes, it is easy for these two outstanding provinces to flatter people's taste buds with their heaven-sent delicacies. Here are some of them.
The Delicacy of Cavite and Laguna
Bibingkoy | Photo from yummy.ph
Bibingkoy
One can never go wrong with a glutinous rice-based snack. Bibingkoy is one of the most popular delicacies among Cavitenos which was invented by "Aling Ika" Alejo during the Japanese occupation in the Philippines. The flavorful, sweet mongo is enveloped in glutinous rice dumplings. What makes this dish very special is the thick sauce made from coconut cream, langka (jackfruit) essence, and pearls for the toppings and is covered with banana leaf. Coupled with a variety of textures from a crisp outer layer to a chewy core, this delicacy in the south is best eaten hot and can be paired with a hot cup of black coffee or choco.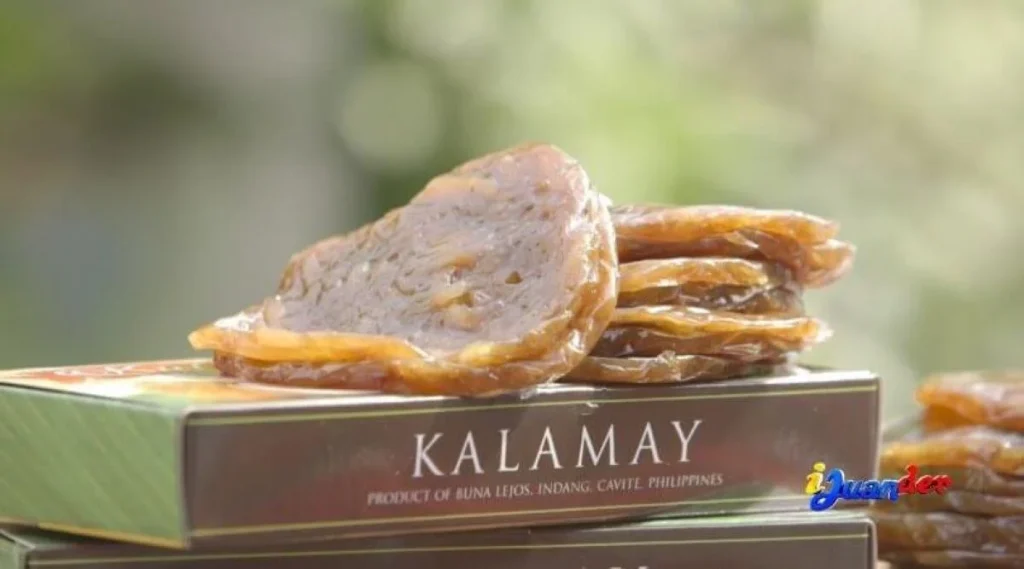 Kalamay Indang | Photo from twitter.com/iJuander_GTV
Kalamay Indang
While enjoying the scenic view of landscapes from the best Tagaytay condo for sale, one can also visit the agritourism town of Indang (18 km away) where Kalamay Buna, also known as Kalamay Indang which was popular for more than a hundred revolutions around the sun.
This delicacy is made of glutinous rice, coconut milk, and brown sugar topped with latik (sweet coconut flesh crisps) or jackfruit strips. Kalamay Indang is popularly sold in Bahay Kalamay, a municipal hall outlet which serves as the town's pasalubong center.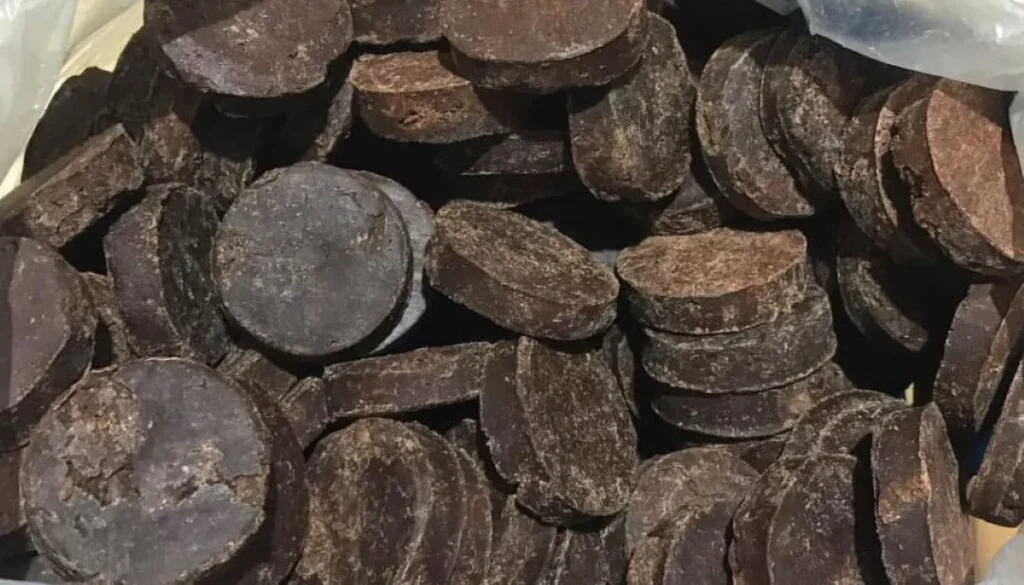 Tablea | Photo from aboutfilipinofood.com
Alfonso Tablea
The fresh mountain-cacao beans in Alfonso are one of the best sources of chocolate-based products which are used not only in Cavite but also in other places in the Philippines. It is mostly used in making a warm cup of hot chocolate while the strong cacao goodness leaves a nice aftertaste in the mouth. This comforting drink is usually paired with a slice of bread.
Alfonso tablea is also used in making champorado, ice cream, and adobo (tablea is infused with the dish to add flavor and to balance the saltiness).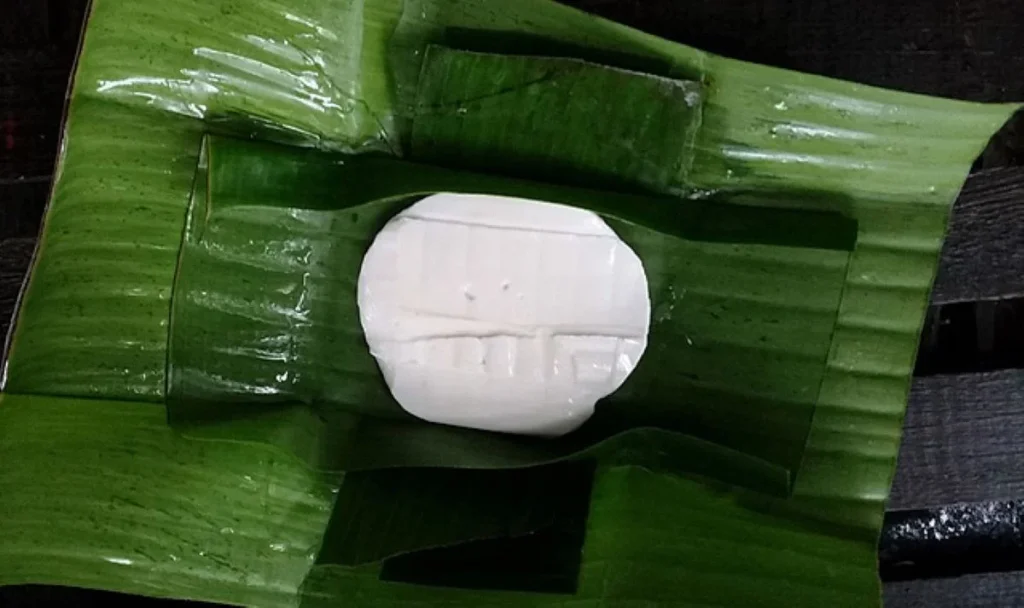 Quesillo | Photo from spot.ph
Quesillo
Life is great, but cheese makes it divine.
Travelers cannot miss the chance to buy white cheese whenever they are in Cavite or Laguna. One of Cavite's trademarks is its quesillo, a kind of white cheese that melts in the mouth since the texture of quesillo is soft and creamy compared to other varieties of cheese.
Quesillo is made from carabao's milk which is coagulated thru vinegar while most white cheese variants were coagulated with citrus. Laguna also has its version of quesillo but calls it plainly, "kesong puti" which is also made from carabao's milk. Upon selling, it is wrapped in fresh banana leaves and is perfect for pan de sal mornings.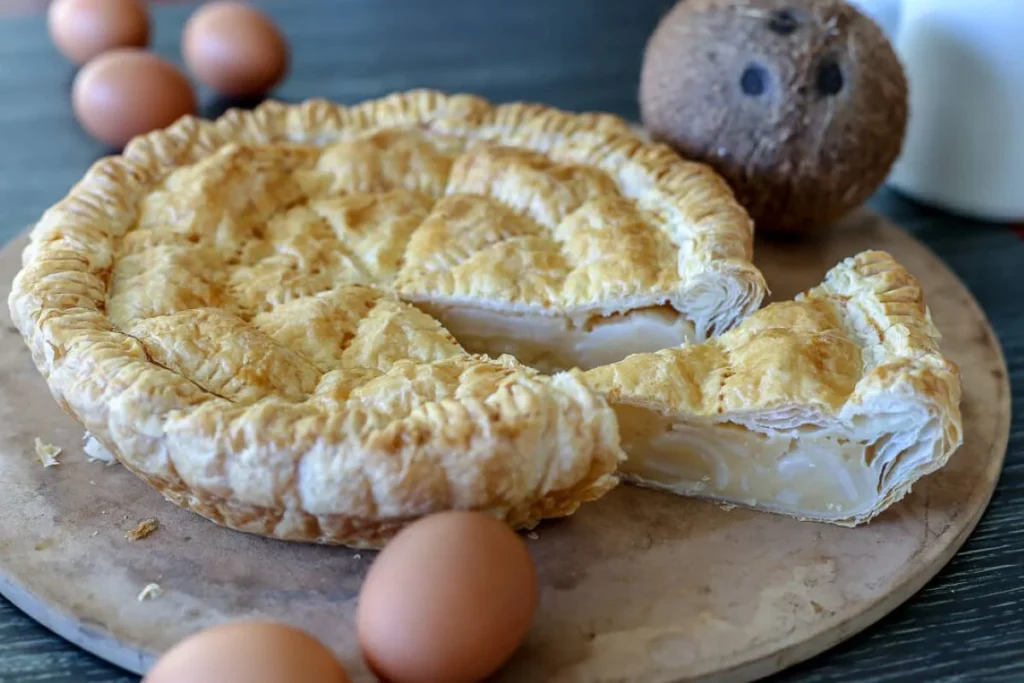 Buko Pie | Photo from angsarap.net
Buko Pie
Cream pies are immortalized with the addition of coconut. Popularly known as buko pie, cream custard cake is a delicacy of the enchanting province of Laguna. It is made with lightly sweetened milk and lavish coconut meat craftily enclosed in a baked crust. The creamy filling and the sweet aftertaste of this delicacy make its patrons come back to the province for the authentic buko pie experience. People may buy the pie from pasalubong centers all over Laguna.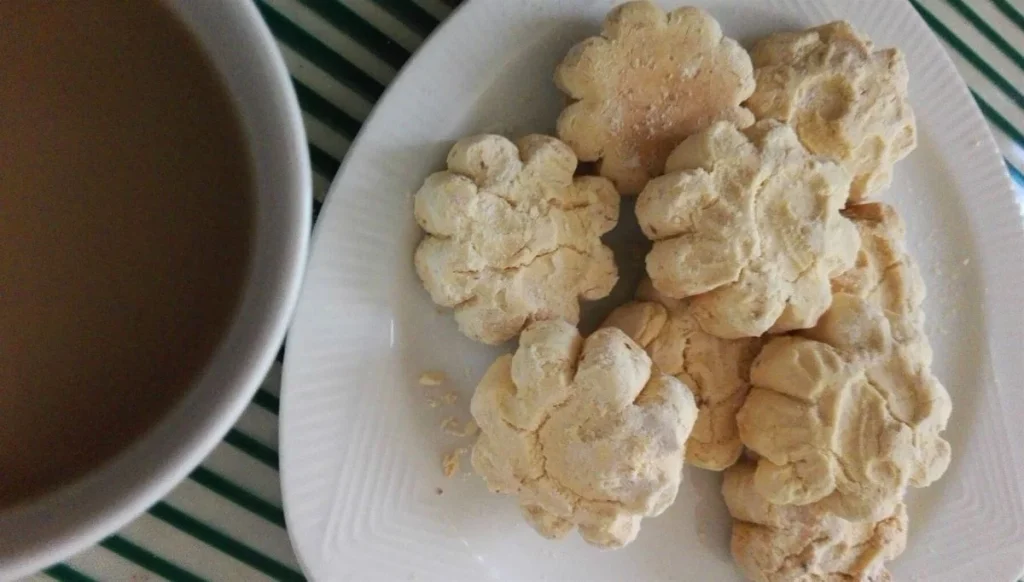 Uraro | Photo from aboutfilipinofood.com
Uraro
Ever heard of root crop cookies?
Uraro, also known as arrowroot cookie is a labor-intensive delicacy from Laguna in which the roots of the arrowroot plant are crushed to extract liquids that will be dried out to yield starch. This is craftily combined with flour, sugar, butter, and eggs. Uraro has a distinct earthy flavor that makes it deliciously unique from other doughy cookies and is best paired with a steaming cup of black coffee.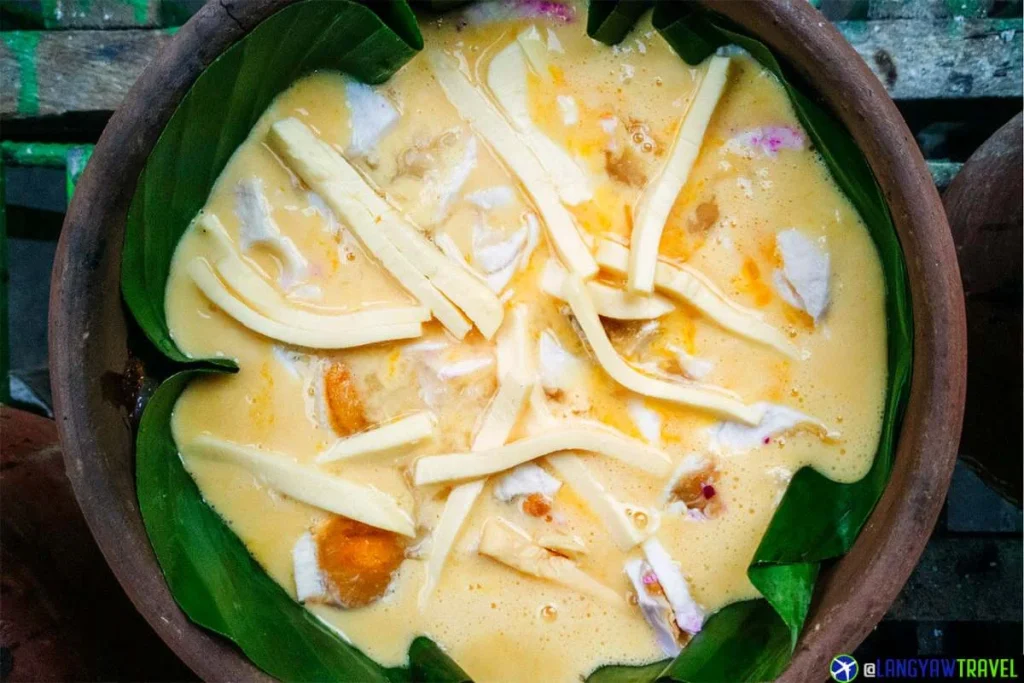 Bibingka de Macapuno | Photo from langyaw.com
Bibingka de Macapuno
Most people were familiar with bibingka galapong, a baked rice cake with coconut milk. The mouthwatering cassava cake also has the same ingredients but grated cassava is used instead of glutinous rice.
Laguna takes pride in its Bibingka de Macapuno, which is just the same version but the inside is generously filled with macapuno. Its texture is crunch-chewy outside but is soft and creamy inside, The combination of glutinous rice flour and macapuno is just enough to make people want to live in Laguna for good.
They say that you are missing out on a quarter of your life if you will not visit the South. Cavite and Laguna are not just homes for the bravest people and most enchanting tourist spots: these are cradles of spectacular Filipino delicacies which were all something to look forward to if you plan to step your foot with any of these two provinces.
Related Blog: Best Filipino Restaurants in Laguna and Cavite