A dream to live internationally is in your grasp. Wander like you are in a different continent and country in just one step out of your house and feel the aesthetic scenery that eyes will compare the views you have been into. This is the chance to build your own kingdom as the new chapter of adventure awaits.
A person living alone or with someone will experience an international level of lifestyle. They say go big or go home, you can go big in your home and take that as your way to stop for a while and enjoy the shopping, dining, and entertainment nearby your world-class village. Create memories with the neighborhood with the village's amenities and talk about what is hot and not. Bike and walk around to spend your time being at ease to have a pampered lifestyle.
From California to the City of Bacoor, a Carmel Home by Crown Asia offers a life of comfort
Like a Lego pieces, your dream as when you were young will slowly come true. Reach your dream home when you were a kid when you coordinate with premium real estate developers. Dedicated premium real estate developer can provide homeowners the perfect house that matches their lifestyle to enjoy the privileges of premium house and lot.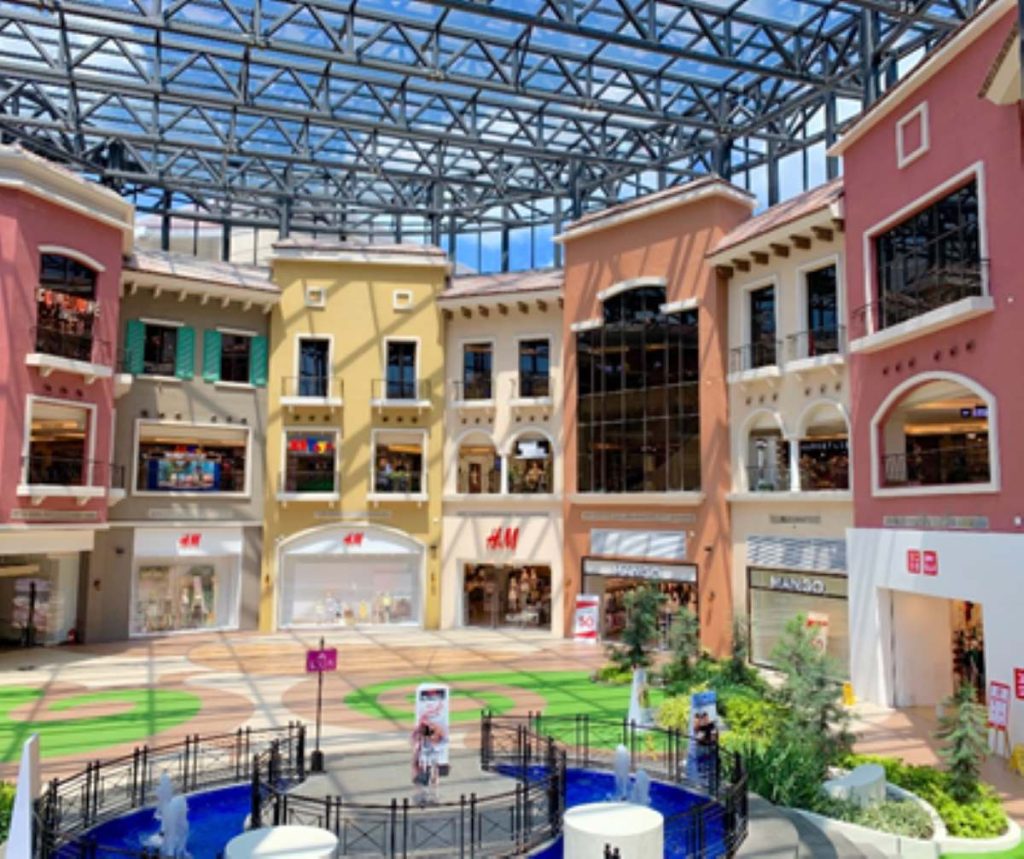 The south is not so bad. A change of heart won't hurt. Looking at the south's location from a different perspective and angle will amaze you on how it grew and made progress for a period of time. Cavite's urban development, especially the development of commercial properties through time, gave access and convenience to its citizens going back and forth up to the north. Number one reason why Cavite's location is in demand and people remain rooted is because of its distance and accessibility to Metro Manila. Drive or commute through north over an hour to get to Metro Manila because of its more viable distance from work or universities.
If you like spending your time going to different places, there is an option to explore the commercial places of Bacoor, Cavite. Evia Lifestyle Center is located at Daang Hari Road, Las Pinas with different attractions and entertainment centers to unwind and spend time freely. One stop shop provided by the Evia Lifestyle Center designed with a dynamic festive setting and varieties of restaurants, supermarkets, and establishments. Evia Lifestyle Center grants a very welcoming ambience to the travelers and shoppers.
If you are still considering and thinking about buying a house- well now is a great time. There is an increase in the number of local first-time homeowners and you can be one of them. Great number from that population are people from provincial cities who travel to Manila to study in its universities or because of work. An important deciding factor in choosing a property is the proximity of important places that have a significant impact on one's lifestyle, such as one's workplace, schools/universities, malls, banks, nearby markets, hospitals, the neighborhood, and highways that enable quick travel from one location to another.
Carmel Newberry Model Home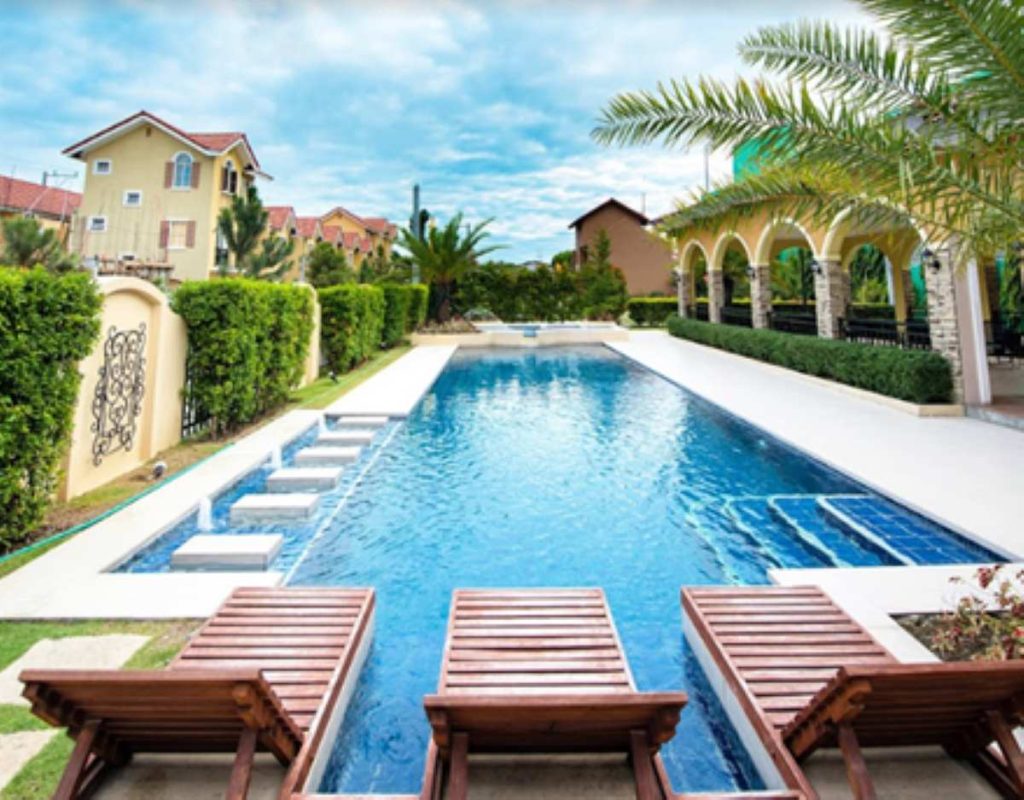 Introducing Carmel as your premium home model option in Bacoor, Cavite where you can stretch out for a little bit and enhance your lifestyle that not the usual amenities can provide. California state of mind and residents may participate in a variety of outdoor activities including biking, jogging, early morning walks and many more. This is a house and lot in Bacoor, Cavite, a premium home California styled architecture with first-class amenities which includes park, spacious pavilion, outdoor blue swimming pool, and a clubhouse. Carmel is divided into two: Newberry and Hemingaway Model Home.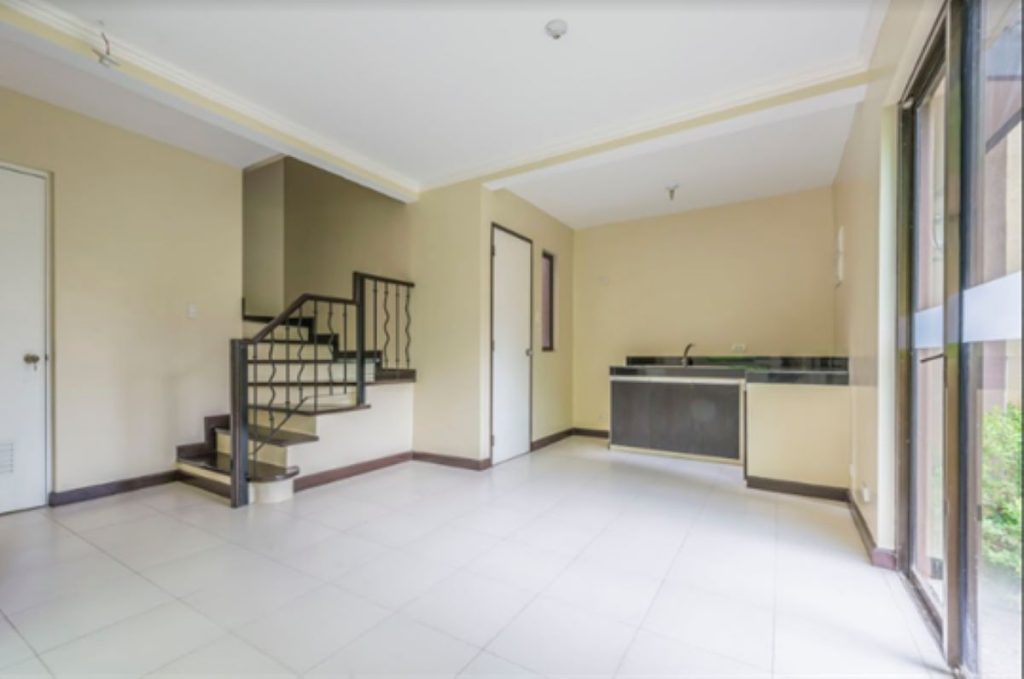 Presenting the first house and lot in Bacoor, Cavite is the Newberry. Crown Asia's Carmel Newberry Model Home is an available home in Bacoor, Cavite and ready for occupancy. Newberry shares a 75 square meter floor area and 85 square meter lot area, a premium house and lot that will suit your lifestyle tastes and needs. This premium house and lot is one of the available homes in Bacoor, Cavite that is strategically placed with a walking distance from the excellent amenities and from the main gate.
The Interiors of the Property
This premium home model's exterior is made with its finest intricate detail feel at ease in the eye. In just one step out of the door, here comes a mini garden offering the homeowners to live green exhibiting a grassy field, rows of shrubs and flowers, fruit-bearing trees, and succulents. The front of the house equips a carport for the family car to be protected from the weather and for storage use.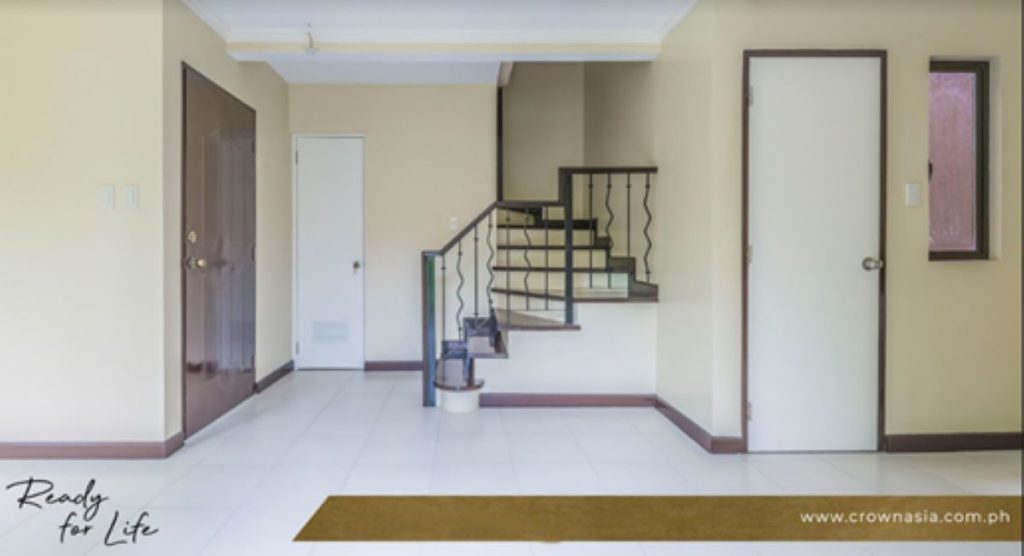 Carmel Newberry Model Home is a three story Californian style house exerting a striking assembly of spacious ground floor which allows homeowners to design its interiors. The general floor plan of the premium house and lot includes the living areas that are just adjacent to the dining area that leads to the kitchen area.
The interior's division of rectangles to divide the corners of the house which comes in various sizes. One of the advantages of the space will give the resident a place where the furniture is. In front of the dining area, this premium house and lot boasts floor-to-ceiling window openings perfect for natural light as the sky changes its tone from night to day. The first floor allows the interiors to seamlessly flow through the surrounding landscape.
The warmest part of the house makes the homeowners settle the most. The three story Californian style 75 square meter house and lot in Bacoor, Cavite is divided into functional areas of the house such as the kitchen area, three bedrooms, powder room, and three bathrooms for the convenience of the residents of the house. Fully finished and ready to move in to start a new chapter of your life. Painted with neutral colors- ivory and black to make the feeling calming and have a natural breeze.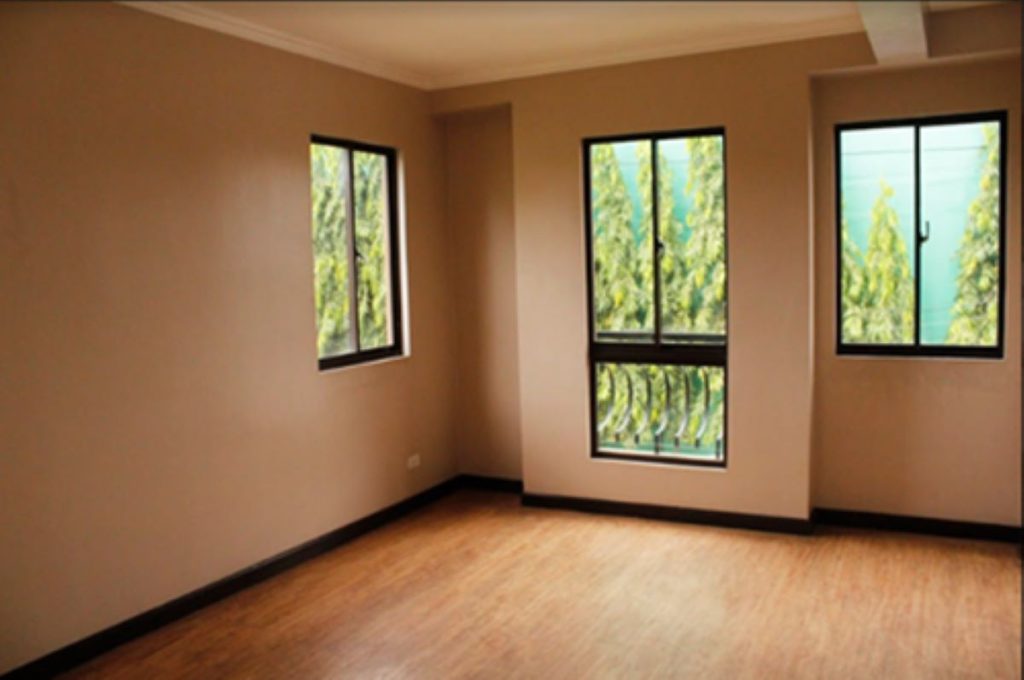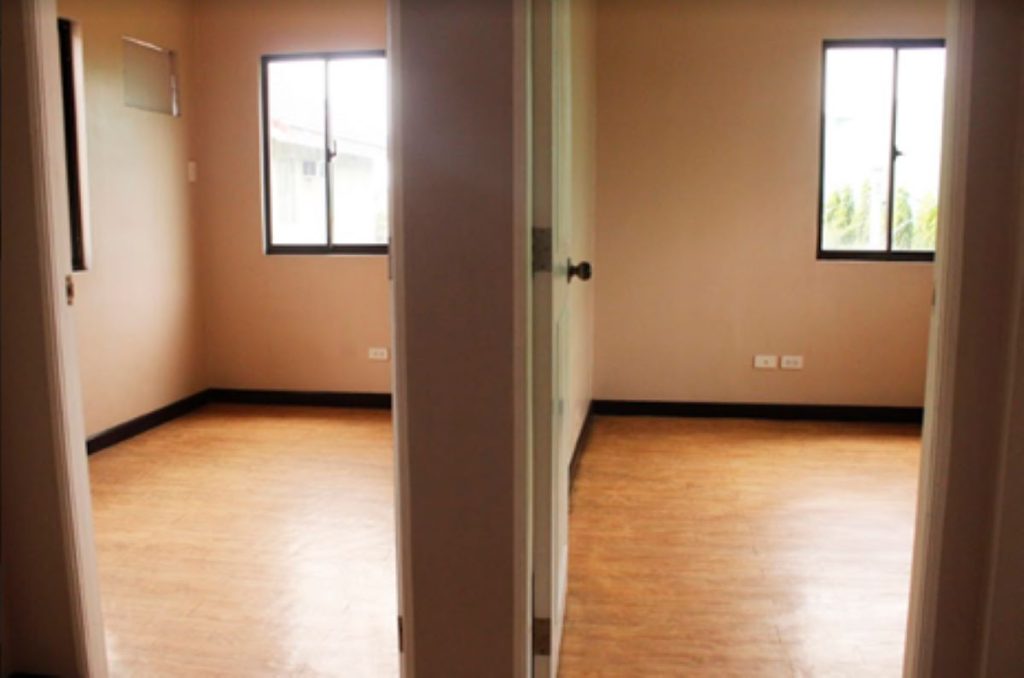 The staircase extends to the spacious master's bedroom and in the same room, there is also a toilet and bath for the family. This rectangular room can include a closet and vanity table. Just across the room, there is this planter's ledge for you to breathe in early in the morning before thriving.
The hall gives four options of doors with not just one but three bedrooms. The third floor is divided into two bedrooms either for the kids or for the guest. There is also this additional mini room for the storage purposes for the extra things.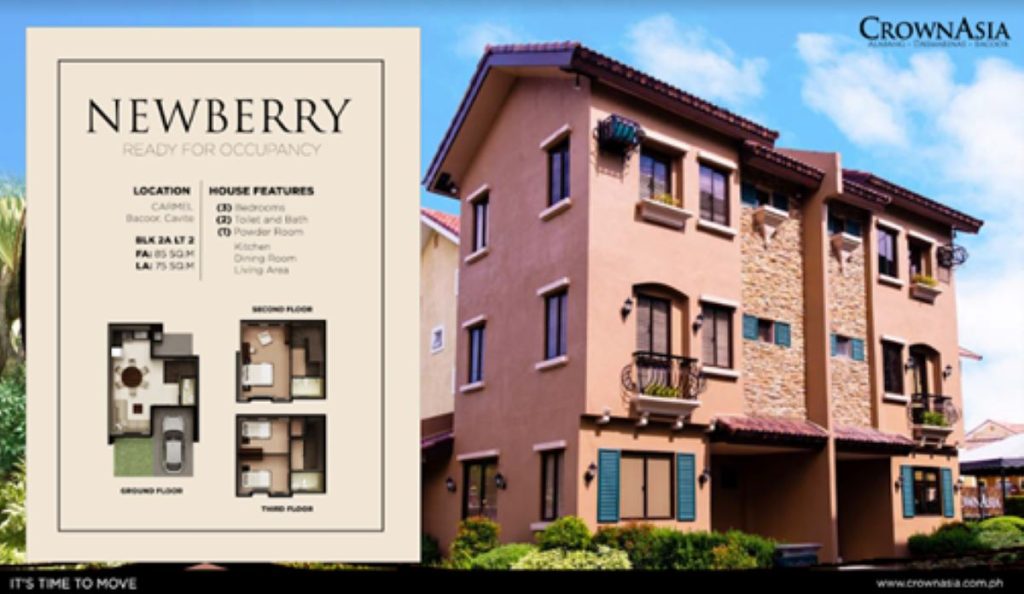 Now that Carmel Newberry Model Home is one available homes in Bacoor, Cavite, this premium home will be yours by coordinating Crown Asia's proficient premium real estate developers. Feel the cozy, welcoming, and personal Californian lifestyle here in the Philippines given by Newberry. Home sweet home, indeed.
Related Blog : Carmel – Refreshing California Beauty