In cooking, one of the essential utensils you must have is a kitchen knife. A decent chef's knife is necessary for efficient and secure food preparation in the kitchen of your condo for sale. Having a sharp, resilient, and strong chef's knife is crucial while cooking a meal, regardless of whether you're an experienced or inexperienced home cook. Since you use silverware as one of the few kitchen items nearly every moment you cook meals, investing in high-quality cutlery may have a significant positive impact on both safety and convenience in the kitchen. Knives don't come in one size fits all, so what suits one person may not be perfect for another.
Here's a list of the best kitchen knife brands and knife manufacturers for your kitchen
Global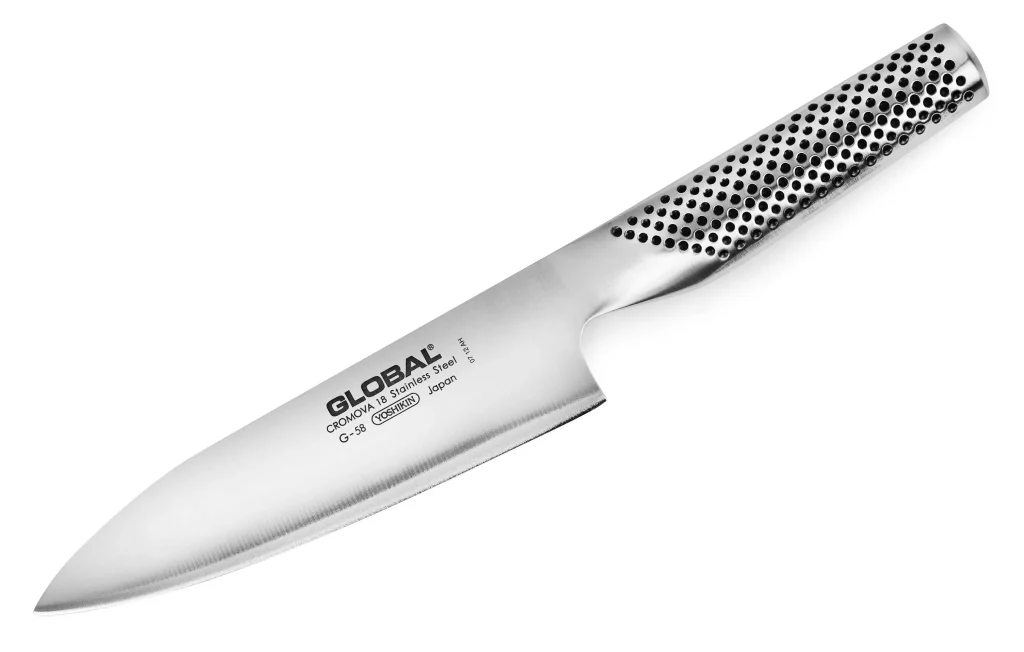 Photo from ingeniovirtual.com
Thanks to its elegant, all-steel style, premium steel, sharp blades, and lightweight structure, Global is the most unique kitchen knife brand. Sand is placed within the hollow grips to make them lighter, more symmetrical, and easier to grip. Since the Santoku knife from Global is manufactured from a single piece of stainless steel, there are no gaps where the blade and grip intersect that can trap debris. Along the blade, there are hollow indentations that prevent items from sticking while being sliced. This Japanese knife was exceptional at everything it attempted, but its prowess at shredding is indeed really impressive Global's stainless steel knives are a good choice for your condo for sale if you like a knife that is extremely lightweight and simple to maintain.
A simple and effective design is seen in the Classic series. Since it is the original Global design, it has a rich history. With more than 60 knives and knife sets, it is by far the largest collection – From a boning knife to paring knives. The ergonomic handle, absence of a bolster, and sanitary slip-free grip make it simple to use as well. On each side of the handles, which are otherwise entirely made of steel, are tiny black circles that serve as grips and add a touch of warmth to the otherwise all-steel design. If you still want to be convinced on buying this brand, the late Anthony Bourdain recommended this brand's chef's knife as the only knife you'll need in your kitchen.
Shun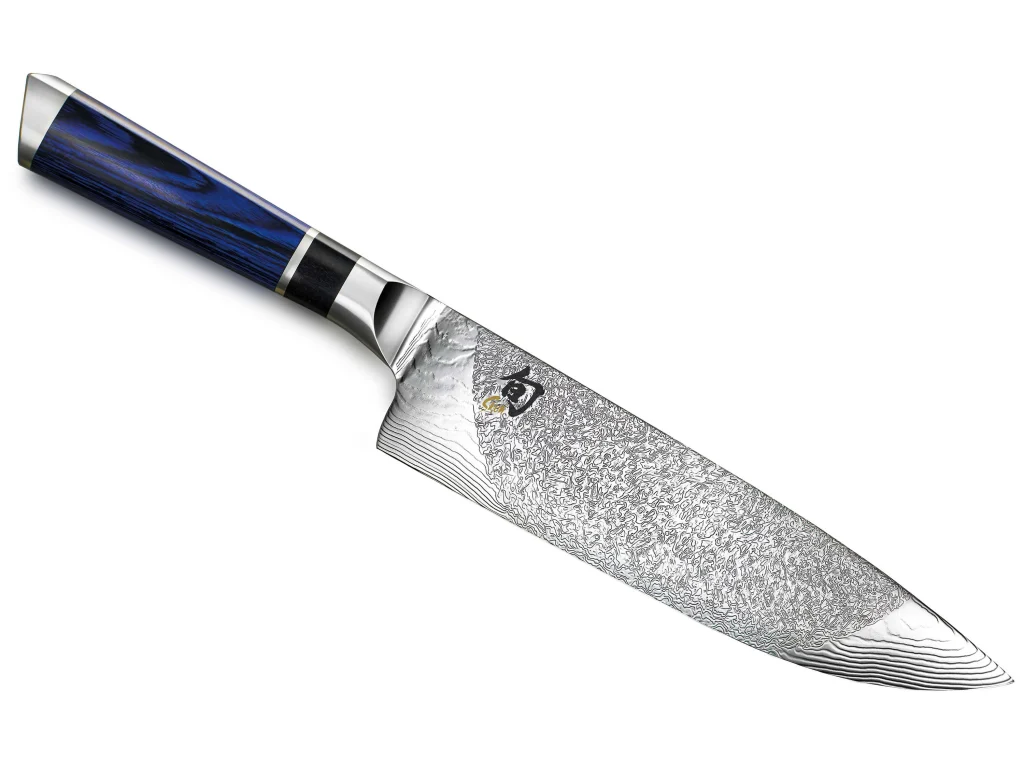 Photo from cutleryandmore.com
Shun's exquisite chef's knife's razor-sharp edge practically floats through ripe fruit. Even little hands find the contoured black pakkawood handle easy to grip. For folks who consider an 8-inch chef's knife too big and hefty, we believe their 6-inch blade will be the ideal choice. Due to its inventive use of design and components, exquisite blade designs, and dedication to sustaining historic knife-making practices, Shun is the best brand for Japanese knives. Shun blades, which are marked with exquisite Damascus and hammered designs, are works of art, in contrast to most brands whose blade surfaces are smooth. In addition to making a statement, these designs help provide air gaps that keep food from adhering.
The Japanese knife that fits greatest for you is this Shun Classic 8-inch Knife. It comes highly recommended as it features a razor-sharp cutting edge and is manufactured by PakkaWood. The blade is crafted using Shun's exclusive VG-MAX steel and then coated in Damascus steel.
Wusthof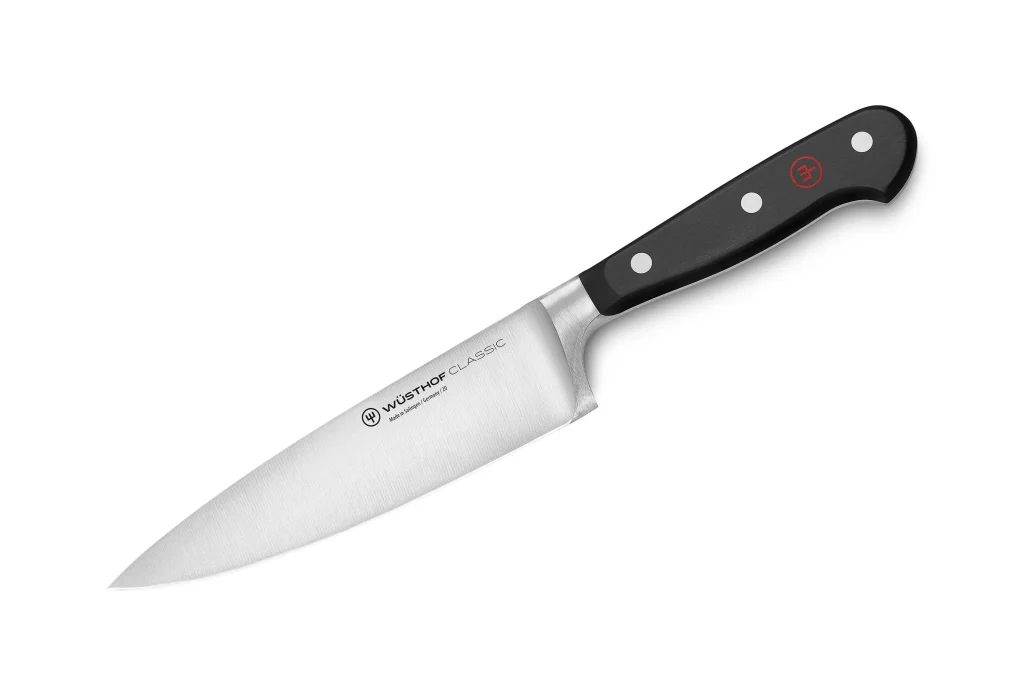 Photo from ingeniovirtual.com
This Wüsthof chef's knife is incredibly flexible and razor-sharp. This was one of the few knives that can really neatly debone a chicken, slice up carrots, chop onions, and produce basil strips. This completely forged German classic features a full tang, which contributes to its wonderfully ergonomic and balanced hand feel. Although it may be put in the dishwasher, manual cleaning is advised to increase its longevity. Wusthof is the best brand for German knives because of its creative manufacturing techniques, durable construction, high-quality materials, and useful design. In order to prevent your finger from accidentally touching the knife's edge, it includes a partial bolster. With their fresh sharpness, the blade cut through paper with ease. Applying further pressure is simple and secure because of the handle's stability and lack of slippage.
The thin blade of the Wusthof Classic Paring Knife is ideal for slicing herbs, fruits, and vegetables in your condo for sale. With this knife, you may cut and decorate with ease. Additionally, it features a full bolster that is balanced well and guards your fingertips. When the hands are moist, the protection at the end of the handle prevents sliding. Wusthof manufactures different kinds of knives such as a carving knife, a bread knife, a chef knife, and more.
Kitchen PRO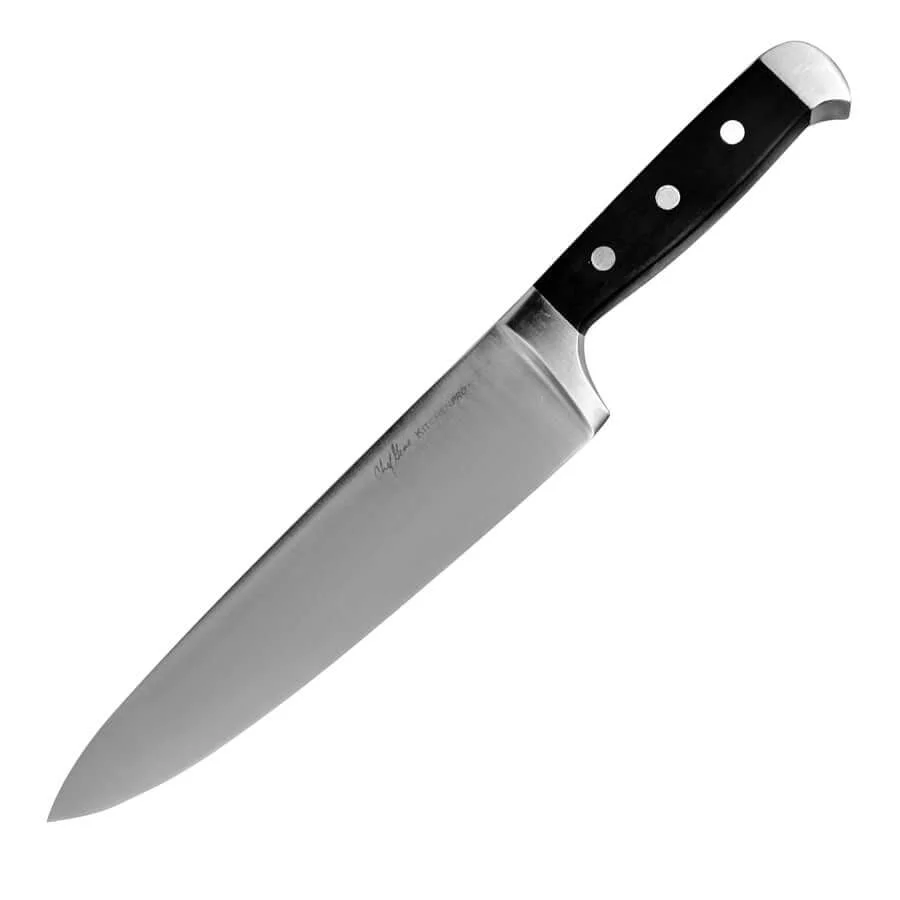 Photo from kitchenpro.com
This knife brand could be the solution if you want to improve the appearance of your food presentation or require a knife that works well for peeling or cutting things into tiny pieces. With a combination of carbon and steel in its blade and an augmented bolster that's awesome for comfort and stability, this Kitchen Pro offers you exceptional results as the perfect kitchen knife in your condo for sale that's designed to cut fruits and vegetables. Additionally, this can rank up your gourmet abilities as it is best in pastry decoration, food carving, and gastronomic art.
The Pro 3.5″ is a Kitchen Pro product that never fails to impress. This will be the solution if you want to improve your presentation or require a knife that works well for peeling or cutting things into tiny pieces.
Zwilling J.A. Henckels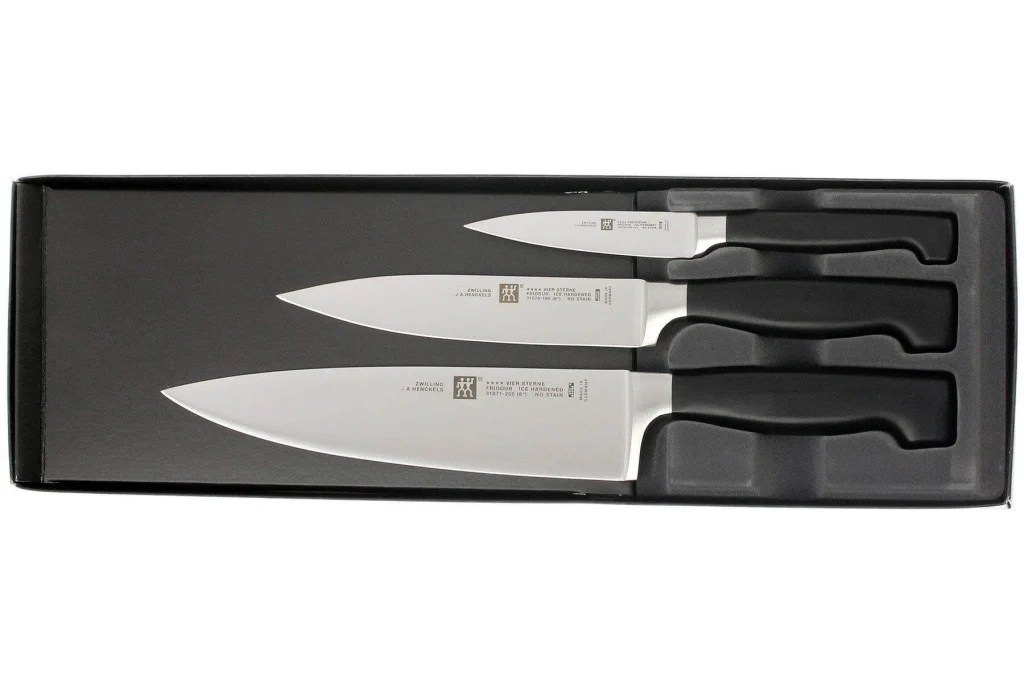 Photo from knivesandtools.com
A leading manufacturer of cutlery, Zwilling J.A. Henckels also produces cookware, kitchenware, tabletop products, and personal grooming equipment. This outstanding J.A. The Henckels Classic Chef's Knife has the weight, form, and functionality of a chef's knife worth splurging on but costs a lot less. It's a cost-effective, classic all-purpose instrument that does an excellent job of filleting a chicken, chopping onions, and blitzing parsley. Stainless steel with a high carbon content is used to create Zwilling's blades. They use natural wood, such as Mediterranean Holm Oak and PakkaWood, or synthetic materials to build the handles.
Due to its exceptional value, the Henckels Classic has received some favorable attention.
Misen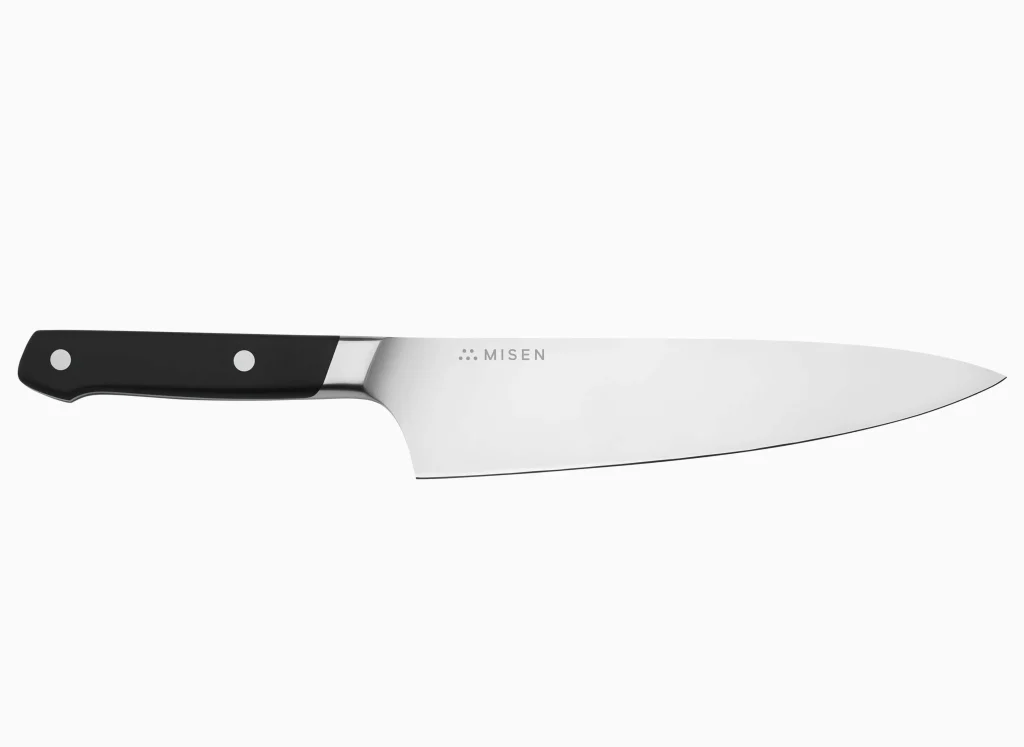 Photo from misen.com
Japanese AUS-8 high carbon stainless steel used to make this chef's knife by direct-to-consumer brand Misen makes it strong, long-lasting, and razor-sharp. Its blade is 15 degrees sharp, which is finer than the average 25 degrees for classic Western-style blades. Its angled bolster promotes a good pinch hold when in use. It performed well in our testing, feeling solid, balanced, and comfortable. The blade is slightly smaller than other chef's knives, which worked well for slicing. Knives with this kind of stunning design normally cost upwards of twice as much!
Victorinox
Photo from knivesandtools.com
Victorinox is the Best Value Kitchen Knife Brand for your condo for sale because of its exceptionally ergonomic grips, razor-sharp blades, and affordable price. One welded knife series (Grand Maitre) and many stamped knife lines are among the choices provided by Victorinox. Each has a distinctive aesthetic and set of attributes.
The Victorinox Rosewood Forged Knife is both attractive and functional. It quickly chopped parsley, diced tomatoes, diced onions, and even deboned chicken. The beautiful rosewood knife's curved handle provides a cozy, comfortable grip.
Fibrox, the company's best-selling line of knives, is a favorite among chefs because of its gripping, non-slip handle, hard steel blades, and razor-sharp edge.
Read more: Splurge or Save: Kitchen Edition