When it comes to setting the bar high with each new product launch. Apple has been a pioneer in the ever-evolving world of technology. As the anticipation for new product releases builds, Apple enthusiasts across the globe are eager to explore the best stores in Asia. Most importantly, the company's commitment to design does not stop at the devices themselves. Apple Stores around the world have become architectural marvels, blending seamlessly with their surroundings while offering an unparalleled retail experience. Even Filipino Apple enthusiasts leave their comfy seats from their condo in Las Pinas to gaze upon these marvels across the globe.
Apple Marina Bay Sands, Singapore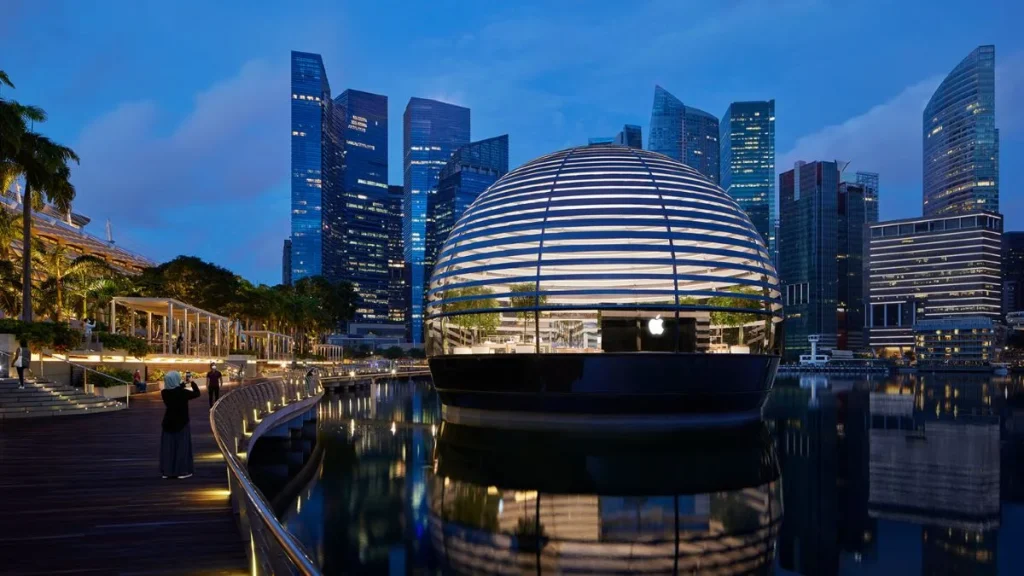 photo from: apple.com
Floating like a giant crystal ball on the waters of Marina Bay, the Apple Marina Bay Sands store is a true spectacle. Designed by the renowned architecture firm Foster + Partners, this store redefines the concept of a retail space. With its panoramic views of the city skyline, the store feels like a futuristic spaceship that has just landed in the heart of Singapore. The seamless glass dome structure and the innovative use of natural light make it a must-visit for design enthusiasts and tech aficionados alike.
Apple Store, Tokyo, Japan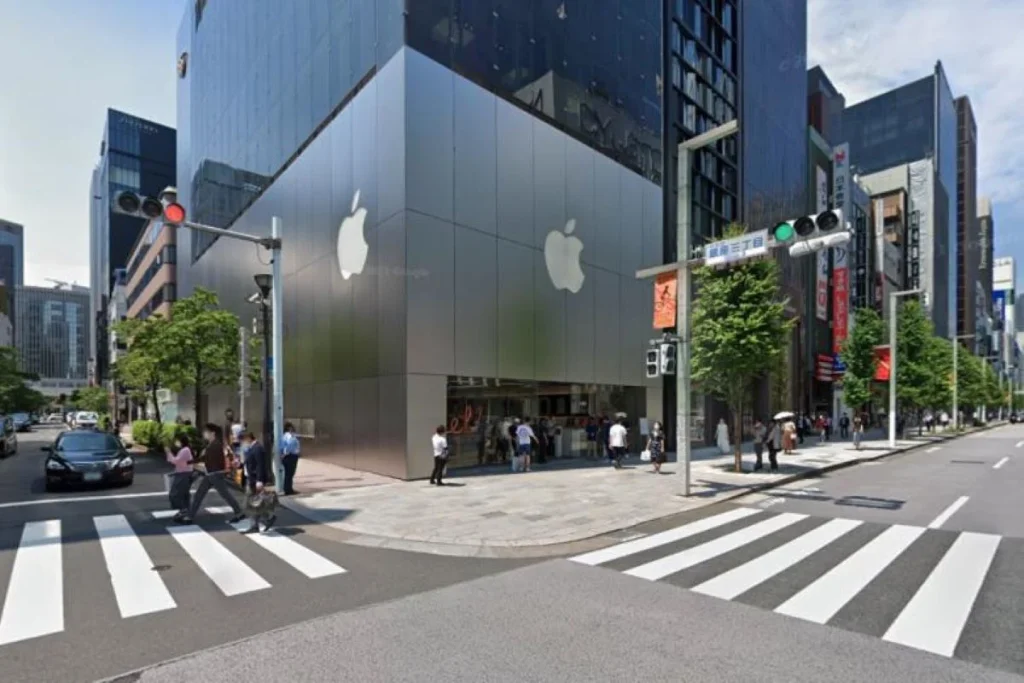 photo from: world-architects.com
Located in Tokyo's upscale shopping district of Omotesando, this Apple Store is a minimalist masterpiece. Designed by the celebrated architect Bohlin Cywinski Jackson, the store is a glass cube that seems to float above the ground. The interior is a serene oasis of calm, with a central courtyard featuring a bamboo grove. This store perfectly embodies the Japanese principle of "shibui," where simplicity and beauty merge to create a harmonious environment.
Apple Orchard Road, Singapore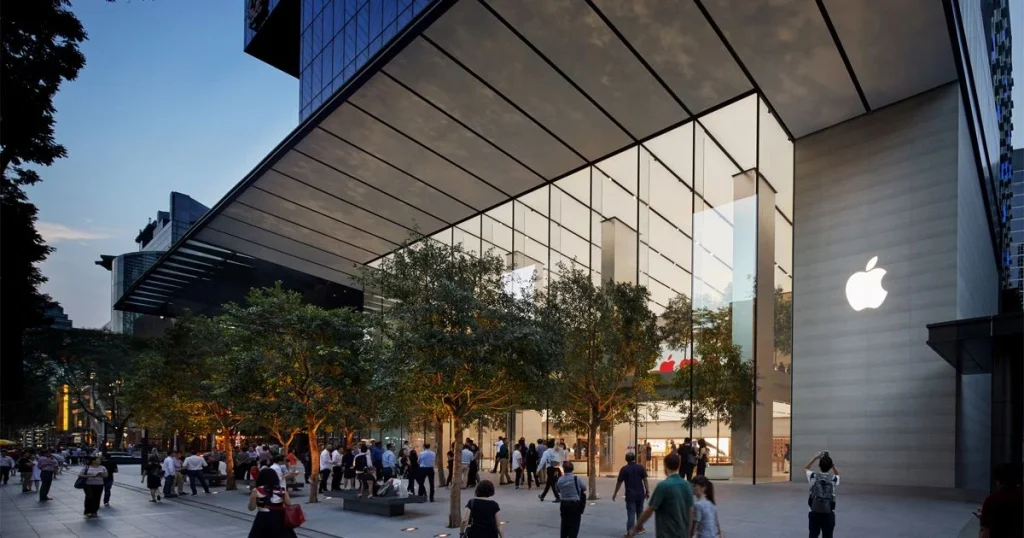 photo from: apple.com
Singapore's Orchard Road is known for its luxury shopping, and the Apple Orchard Road store fits right in. The design, inspired by Apple's classic glass cube store in New York, features a stunning glass facade that curves gracefully into the ground. Inside, a lush indoor garden brings a touch of nature to the bustling shopping district, creating a serene atmosphere for customers to explore Apple's latest offerings.
Apple Store, Bangkok, Thailand
The Apple Store at the IconSiam shopping mall in Bangkok is a celebration of Thai culture and design. The building's architecture seamlessly integrates traditional Thai elements, such as the intricate timber lattice facade, with Apple's modern aesthetic. Inside, a cascading terrazzo staircase adds a touch of grandeur to the space. The store's design pays homage to Thailand's rich cultural heritage while offering a cutting-edge retail experience.
Apple Store, Seoul, South Korea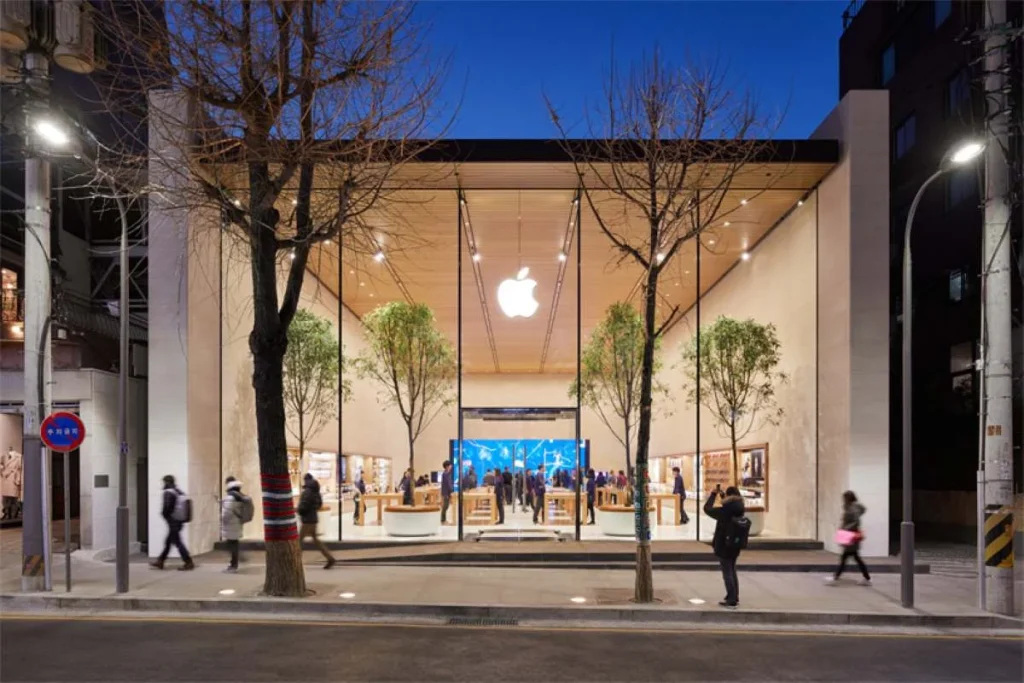 photo from: apple.com
Nestled in the heart of the bustling Gangnam district, the Apple Store in Seoul is a true architectural gem. Designed by Foster + Partners, the store is characterized by a striking cantilevered rooftop garden that provides shade and a breath of fresh air to visitors. The exterior features a transparent glass facade, allowing passersby to catch a glimpse of the innovative products inside. It's a harmonious blend of nature and technology, reflecting the city's dynamic spirit.
Apple Central World, Bangkok, Thailand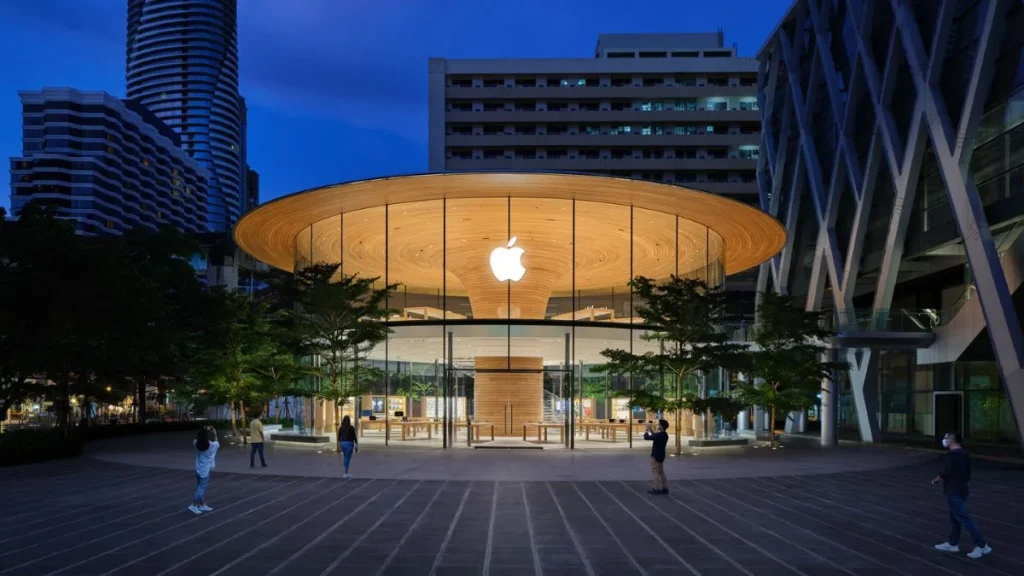 photo from: apple.com
Another remarkable Apple Store in Bangkok is the Apple Central World. Situated in one of the city's largest shopping centers, the store boasts a unique elliptical design with a sweeping cantilevered roof. The all-glass facade creates an inviting and immersive shopping experience. Inside, a vibrant Forum space hosts Today at Apple sessions and serves as a gathering point for the community. This store stands as a testament to Apple's commitment to pushing the boundaries of architectural innovation.
Revolutionizing the Retail Experience: Apple Stores in Asia
Apple stores have become more than just retail spaces; they are destinations for tech enthusiasts and design aficionados alike. In Asia, these stores have taken the concept of immersive retail to new heights:
Innovative Store Designs
Each Apple store in Asia is a masterpiece of design and functionality. From the sleek, modern architecture of the Tokyo Ginza store to the stunning views at Singapore's Marina Bay Sands location, these spaces offer a unique blend of technology and aesthetics.
Expert Services
Apple Geniuses and Creative Pros are available to assist customers, offering expert advice and guidance. They have offices in Taguig, Pasay, Mandaluyong, and other offices near condos in Las Pinas. Whether you are troubleshooting a technical issue or exploring creative possibilities, the support is unparalleled.
Today at Apple
Apple stores regularly host Today at Apple sessions, where customers can learn new skills, discover creative techniques, and engage with their passions. These free workshops and events cater to a wide range of interests, making the stores hubs of learning and creativity.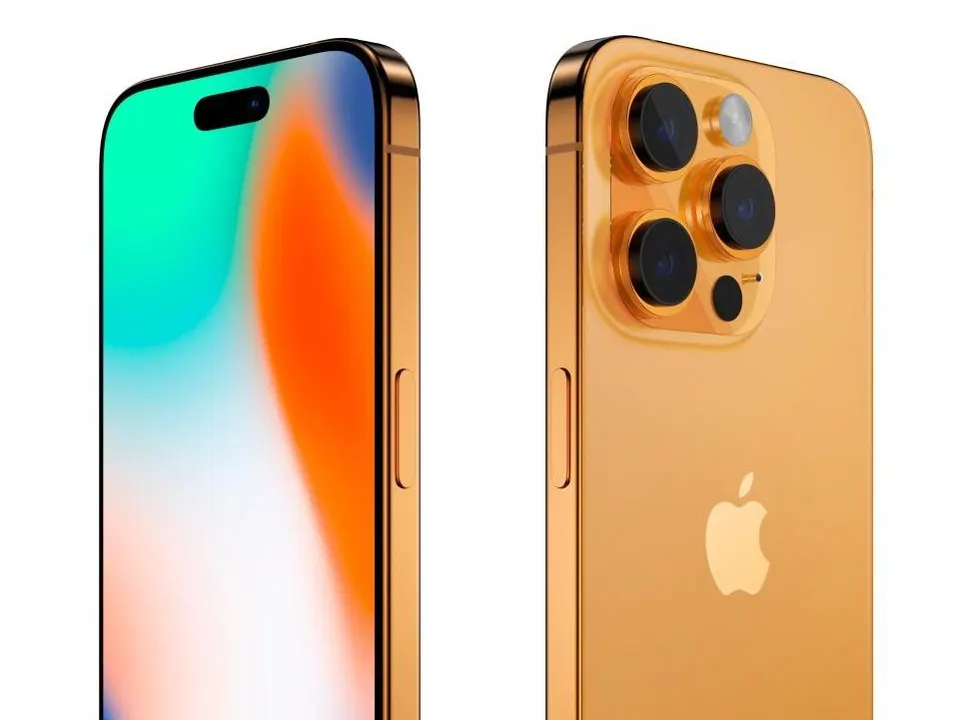 photo from: forbes.com
The iPhone 15 Unveiled: What Buyers Need to Know
Design Evolution
The iPhone 15 boasts a stunning design overhaul, with a thinner, more streamlined profile and a ceramic rear panel for enhanced durability and wireless charging efficiency. It comes in a range of captivating colors, sure to satisfy your aesthetic preferences.
Supercharged Performance
Powered by Apple's latest A16 Bionic chip, the iPhone 15 offers unparalleled speed and efficiency. Whether you're gaming, multitasking, or running resource-intensive apps, the device delivers seamless performance.
Cutting-Edge Camera Technology
Photography enthusiasts will rejoice with the iPhone 15's upgraded camera system. With a 108-megapixel primary sensor, improved low-light capabilities, and enhanced optical zoom, capturing stunning photos and videos has never been easier.
Battery Life Boost
The iPhone 15 is equipped with a high-capacity battery that ensures all-day usage without compromise. Say goodbye to frequent recharges and enjoy your device to the fullest.
iOS 16
The iPhone 15 debuts with iOS 16, bringing a plethora of new features, enhanced privacy controls, and a more intuitive user experience.
Preparation for Launch
Sign up for notifications on the Apple website to get updates on the release date.
Consider trading in your current device to offset the cost of the new iPhone.
Make a list of your must-have features to help you choose the right model.
Check with your local Apple store for special launch events and promotions.
The best Apple stores in Asia offer more than just a shopping experience; they are architectural masterpieces that celebrate the fusion of design and technology. As Apple stores in Asia continue to evolve and redefine the retail experience, the release of the iPhone 15 promises to be a pivotal moment in the tech world. With its stunning design, supercharged performance, advanced camera technology, and more, it's set to capture the hearts and minds of consumers. So, gear up, mark your calendars, and get ready to embrace the future of technology with the iPhone 15. Visit your nearest Apple store in Asia to experience the excitement firsthand and make the most of this groundbreaking release.
Related Blog: What Classifies as Modern Architecture Design?