A premium lifestyle requires a massive work commitment and sometimes it can be overwhelming. During our busy days, we may find it hard to relax. We tend to forget to declutter our condominium in Tagaytay Sanctuary.
Our home reflects our lifestyle. Achieving a premium home is not all about how opulent your furniture and home decor are. It is about how you organize your living space.
There are many interior design themes that you can get inspiration from. But have you heard about applying Hygge Philosophy in your condominium in Tagaytay?
What is Hygge?
"Hygge" [hoo gah] is a Danish word that translates to the concept of contentment. The Scandinavian belief is about the celebration of happiness, coziness, warmth, and family. The hygge lifestyle mirrors the Danish way with their societal views of equality and well-being.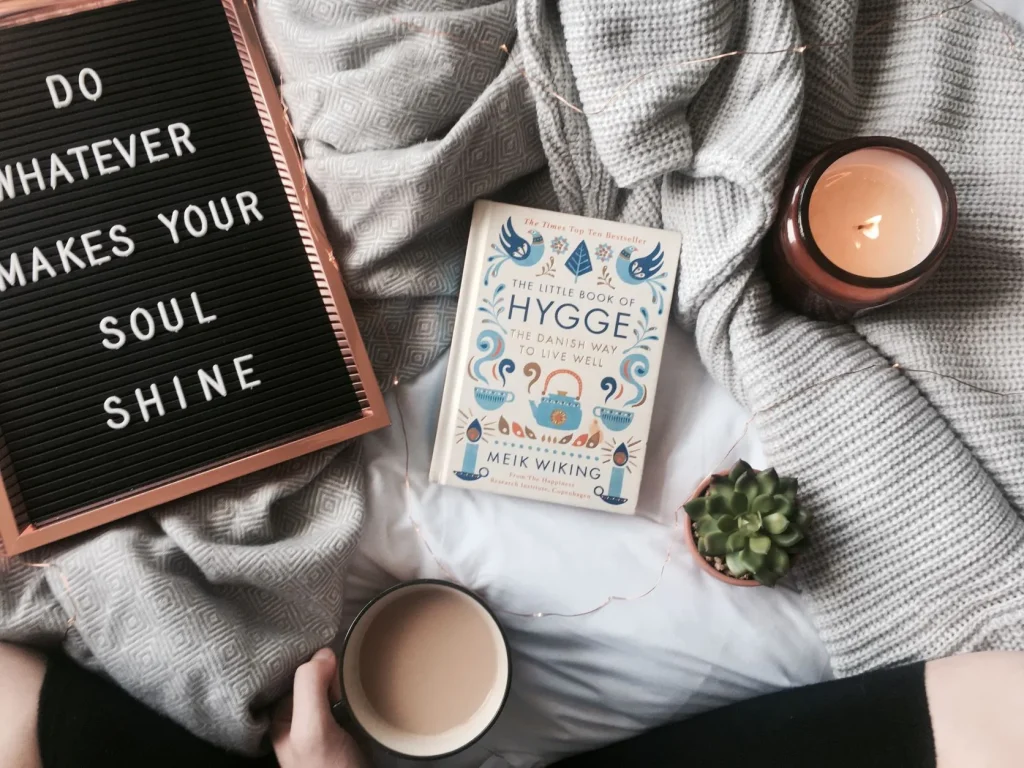 Forbes even ranks Nordic countries as the happiest countries in the world. Finland is in the lead, followed by Denmark, then Iceland. There is no denying that the concept of hygge has a major impact on the Danish lifestyle as they find happiness in life with simple pleasures through spending quality time with their families.
Creating a safe space for your family and close friends while engaging in deep, meaningful conversations is the true essence of hygge. Filipinos will easily adapt to hygge since we share a similar trait with Danes as family-oriented.
The Danish lifestyle of hygge is highly influenced by their heavy winter wherein they have to settle and find warmth with their relatives. Although the Philippines is a tropical country, you can match hygge with the cool climate in Tagaytay.
Adopting a hygge philosophy in your lifestyle is not high maintenance but it guarantees a deluxe quality experience with your loved ones. But did you know that even without visiting Nordic countries, you can also attain the concept of warmth and cozy in the comfort of your own condo in Tagaytay?
The architectural designs of Crown Asia's Pinevale are derived from Denmark's architecture to suffice your high-class lifestyle. Tagaytay's climate is a perfect match with Danish-theme architecture. The wonderful scenery of Tagaytay mimics the tranquil landscape of Denmark.
But How to Create Hygge Lifestyle at Home?
Keeping it simple is the essential element of Hygge. The Danish lifestyle can be applied to your personal life, but also indoors. But if you're still at square one, then you can visit your Pinterest and look for inspiration.
Here are more tips that you may want to try so that you can attain that new welcoming home in your condominium in Tagaytay.
Use Hygge Color Palette
The Hygge Philosophy uses muted colors to offer simplicity. You may want to paint your condo with neutral colors. The color palette provides a soothing sense and guarantees a calming effect to the homeowners.
Hygge colors are usually gray tones or beige.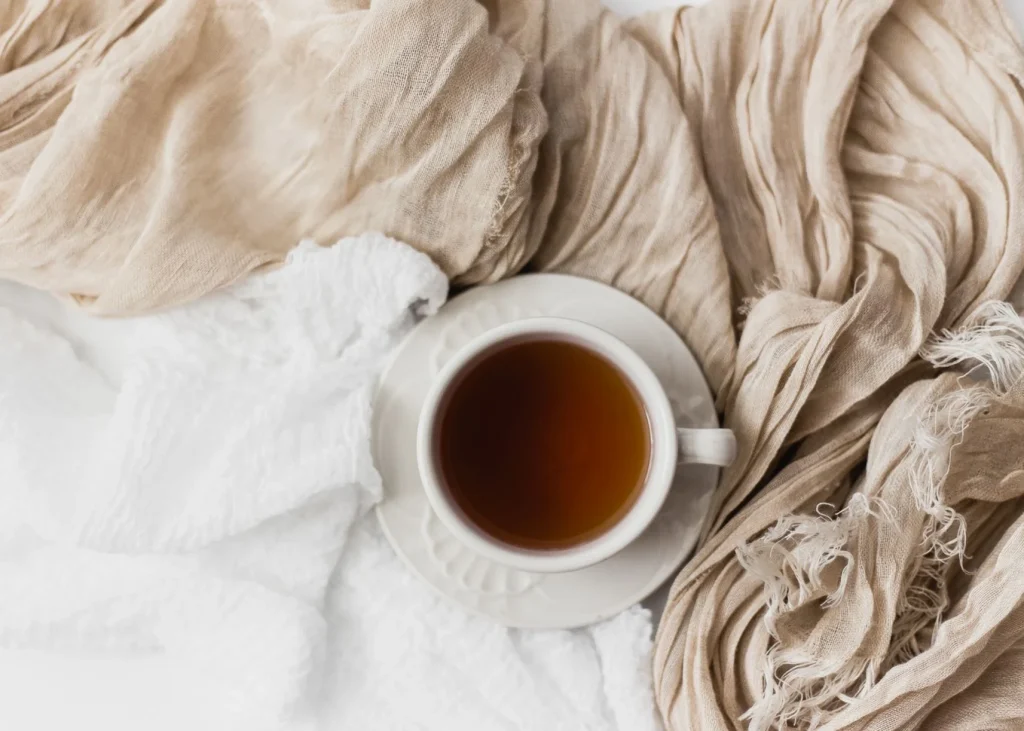 You can optimize your hygge home with your favorite color but make sure to incorporate it with a hygge color palette. Remember that your home must reflect who you are. For example, if you like the color pink, then choose a muted mixture or shade of pink.
Of course, you still need to stick to the concept of simplicity with hygge. You don't need to go overboard and spend money to repaint your whole interior. This is completely optional but the touch of neutral colors is comforting.
Install curtains with sheer overlay.
The philosophy originated from Europe and the continent experiences winter. That's why they incorporate a fireplace to fulfill coziness and warmth against the cold season.
However, living in a tropical country, we don't experience the winter season, so you are not required to install a fireplace to achieve a hygge home. As an alternative, you can install curtains with sheer overlays so that the harsh light does not penetrate your room directly. This can still match the hygge lighting of dull yet warm.
Installing sheer curtains in your windows at Pinevale is a chef's kiss as you look at the serene landscape while greeting the cold breeze of Tagaytay and drinking your hot cocoa.
Decorate your home with Candles
The warm colors from the candles are satisfying. They grant tranquility and as the fire dances in your candle burn, you feel that you are with nature. You can also purchase scented candles with nature scents too.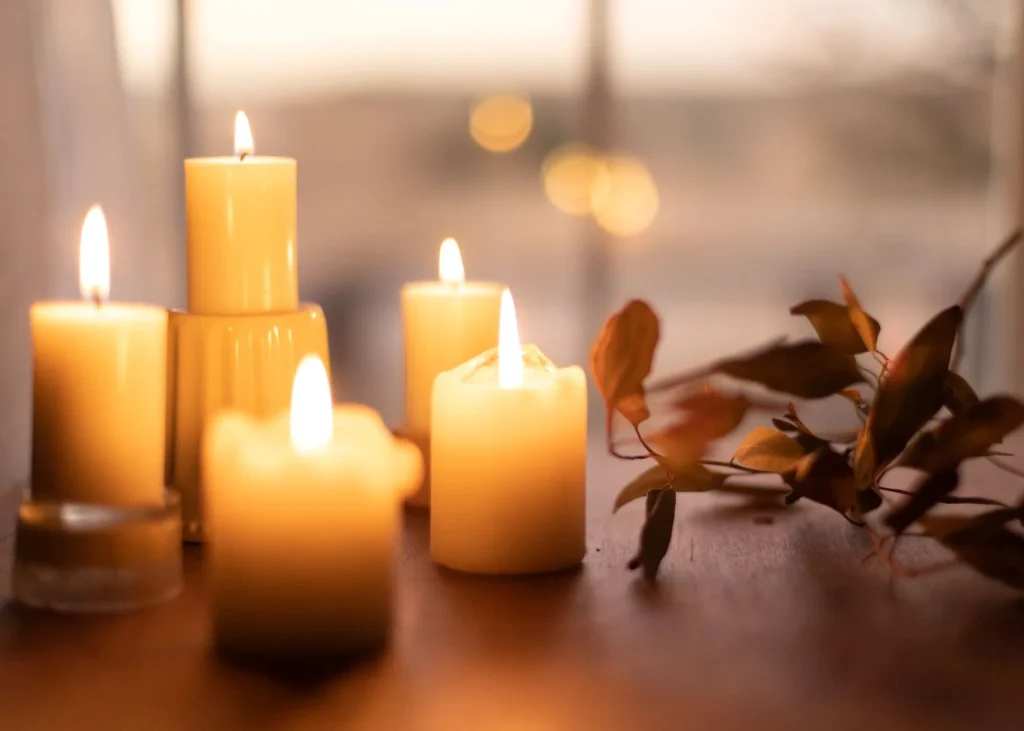 For fire safety, you may opt battery operated candle lights.
Incorporate natural materials in your home furniture
Installing wood elements helps bring nature into your cozy home. And wood makes us feel that we are close to the forest and we hear the birds chirping.
While choosing furniture, look for couches, beds, and kitchen sets made of mahogany or oak, or even birch. You can also install wood floors in your house as well.
Home hygge is not complete without adding embellishments with natural materials. Nature-themed embellishments add sophistication to your living room. You can add dried flowers to your vase. A potpourri is also a good option. In your living room, you can add small plants to your coffee table.
Being one with nature delivers a cozy vibe.
Add texture to your cozy hygge decor
Make sure that your home decor sticks to a neutral color scheme. When decorating your condo, you may choose vases and pots in a similar color scheme and make sure that they have texture. Adding texture is crucial to hygge home design.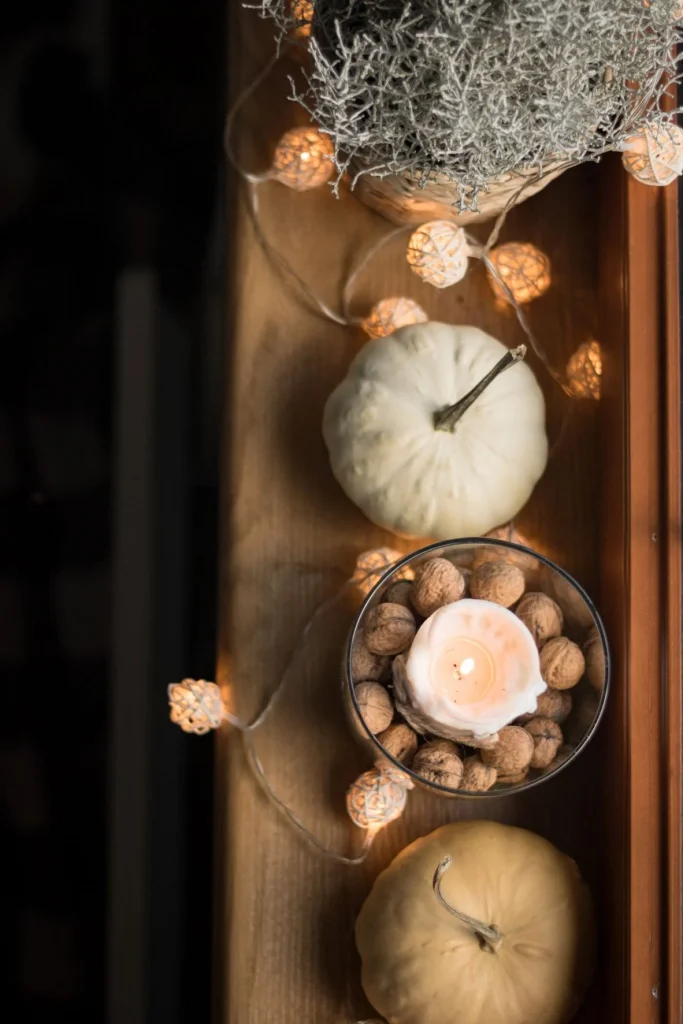 Texture in a hygge home can be seen in your pillows and blankets. You may purchase wool. knitted blankets.
Set your Hyggekrog
Hyggekrog in rough translation means your cozy nook. Hyggekrog is a safe space for you to sit or lay down while you are under your blanket reading your favorite book. You can utilize this in a designated corner of your house. Whether in your kitchen, couch in the living room, or bedroom.
It is common for a hygge home to have a hyggekrog installed near the couch. Setting your nook corner near the television area and coffee table is a magnificent plan. You can enjoy your Netflix and chill while hugging your wool-knitted pillows.
Decorate your sentimental items
There are items that hold emotional value to us and that would add interest to our home design. Personalizing your hygge decoration guarantees a more welcoming space for you.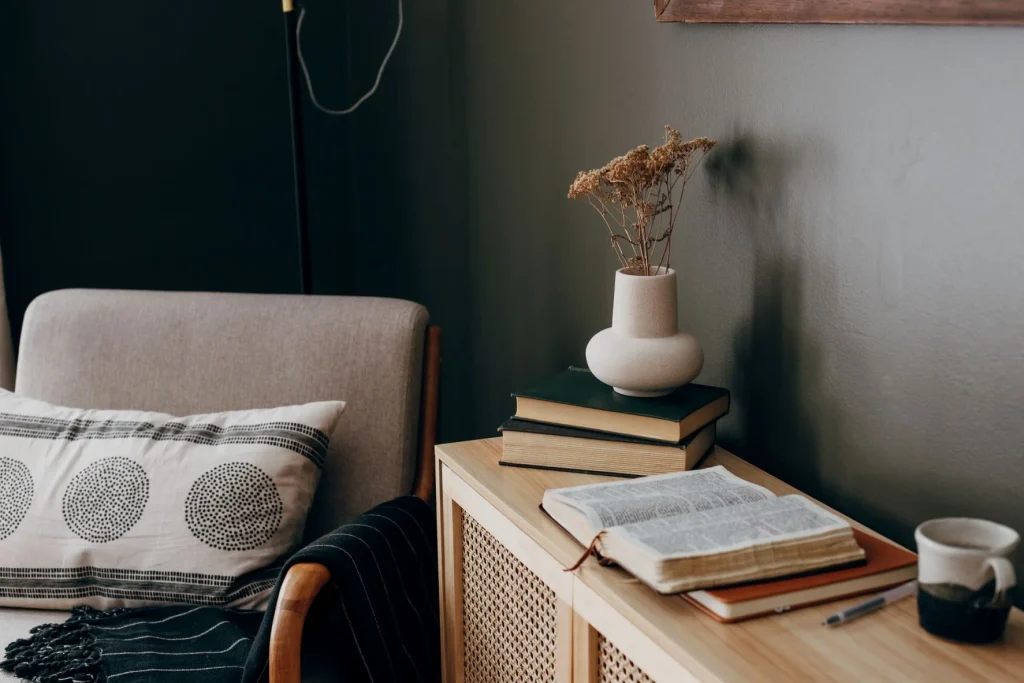 If receiving letters meant a lot to you, then add all of the letters you received in one jar.
Host a small gathering at home
Hygge lifestyle is incomplete without your loved ones. You should set a time to put away your phones and be present with your family or closest friends. You must reconnect and establish new memories. HYGGE ABOUT TOGETHERNESS. 
Host an intimate house party. You can serve soft dough cookies with coffee or even sweet cakes with a cup of tea in your living room. For a more deluxe experience, opt wine and cheese reception. It truly depends on your preferences. There are plenty of ideas about how you will spend time with your loved ones. Again, it's not about how expensive your get-together is, but the richness of spending quality time with them.
Use Nature Aroma
Of our five senses, the sense of smell is the strongest in terms of remembering. And scents can trigger nostalgia. Sometimes we remember a flashback because their scent reminds us of a certain memory we thought we never had. Matching your home design with nature's aroma makes it more welcoming.
If you have a diffuser, you may add aroma oil with a natural fragrance. You can choose pine to accentuate the cozy vibes in Tagaytay as the province is surrounded by pine trees.
Another option is to have relaxing aroma therapy in your bathroom. Where you can listen to relaxing music while your scented candles stimulate your inner peace.
Slack with your lazy outfits
Lastly, you cannot enjoy your new home ambiance if you are not relaxed. Skip your jeans and wear your sweatpants. You have to be one with your home. Hygge decor is more suitable in sweater weather too.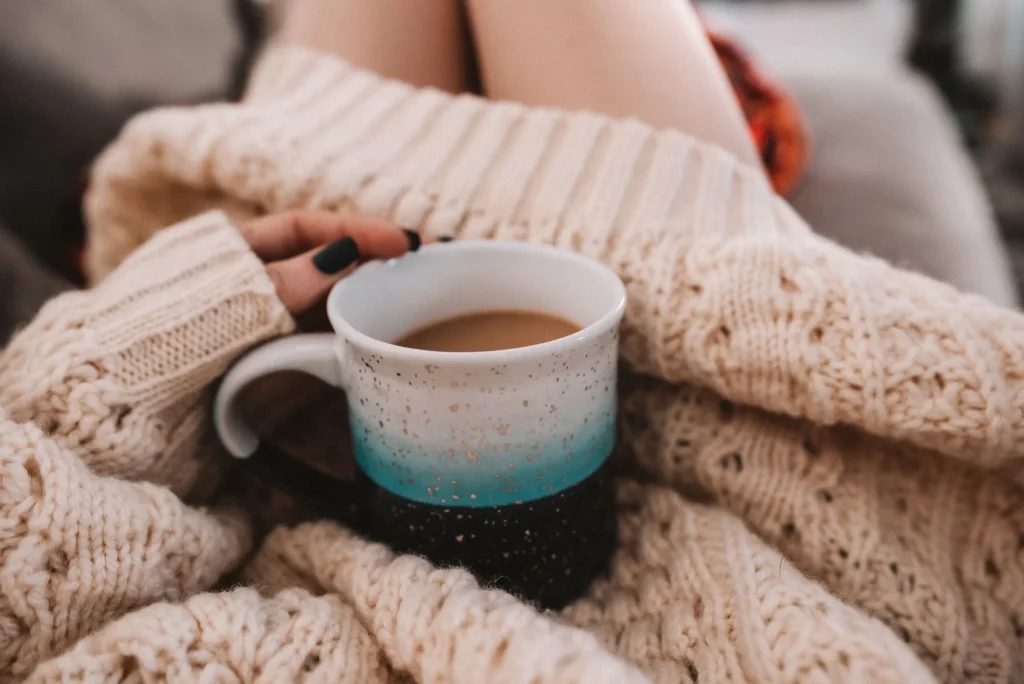 What are you waiting for? put on your cashmere socks and enjoy your cozy yet simple home design.
Related Blog: Enjoy a Hygge Experience With Pinevale Tagaytay and Its Amenities