I'm sure you too miss comfort food during this rainy season. Every once in a while it is nice to eat up your favorite Asian Food, such as Ramen Noodles, Sushi and Seafood platter, Korean BBQ chicken, Stir-fry noodles, Dumplings, Hot pot, Rice bowls, Chinese cuisine, and the list goes on. Thinking about it now, makes us crave one good Asian plate that offers good food in a good restaurant.
From Chinese restaurants to Japanese, Thai, and Korean, here is the best list of Asian Restaurants in Las Pinas City that is surely a must-try!
Modern Shanghai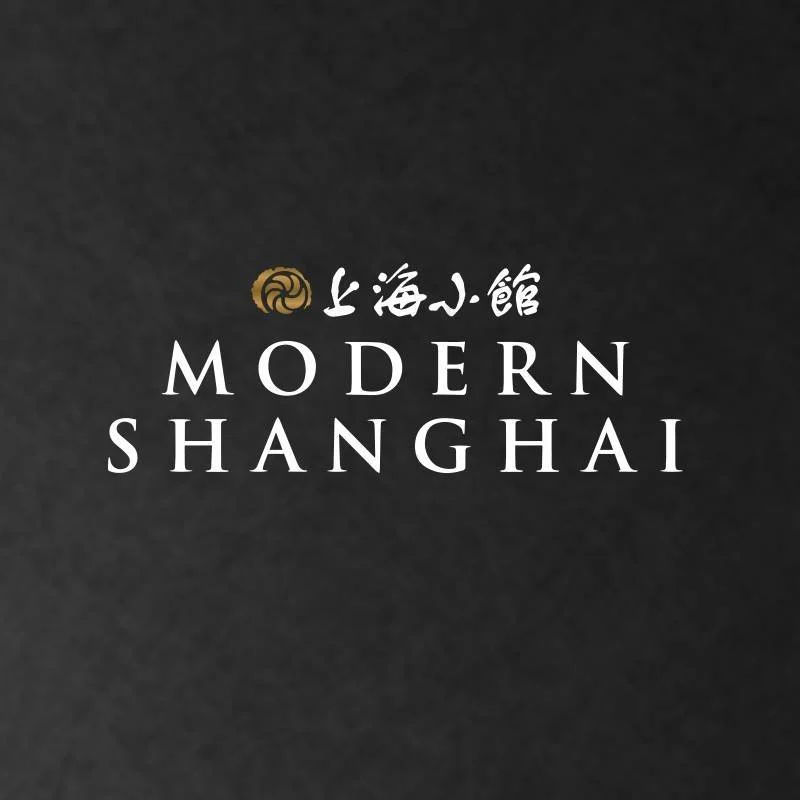 Photo from booky.ph
Location: Vista Mall Global South, C5 extension, Las Pinas City
Stemmed from Shanghai's most original home-cooked recipes, Modern Shanghai offers authentic and good Chinese food of local Shanghai cuisine in a casual home-like manner, reviving all the simple but hearty meals that connect you with traditions and memories.
This Chinese restaurant in Las Pinas offers flavorful rice bowls, mouth-watering chicken recipes, their signature Xiao Long Bao and dumplings, hot pot, soup and noodles, and other Chinese food.
This restaurant opens from 10 AM to 9 PM (Mall operating hours)
Price Range: 400-2,000 (Ala Carte Meal to Family Bundle)
Teppanya
photo from dude4food.blogspot.com
Location: Evia Lifestyle Center Second Floor Daang Hari, Las Pinas, Luzon 1750 Philippines
There are a lot of Evia restaurants and one of them is Teppanya, which is a Japanese food lovers' paradise. Here food is made to order. Meaning, it's not on a buffet line that sits out for everyone. You order and they make it for you. They actually offer a lot. This Japanese restaurant serves a variety of dishes; from yummy appetizers, sushi, salad, soup, and ramen to A5 Wagyu, lobsters, oysters, and even Korean dishes. You can also enjoy premium set meals for that wonderful experience of seeing how they cook the food on a Teppan, the Metal Griddle. Whether you're looking for teppanyaki, ramen, sushi, and other Japanese dishes, Teppanya has a wide-ranging menu that you can choose from. Here you can also get to see how your food is being cooked. Visit Evia Lifestyle Center to try it out and other shops like Coffee Project!
Ori Izakaya & Ori Cafe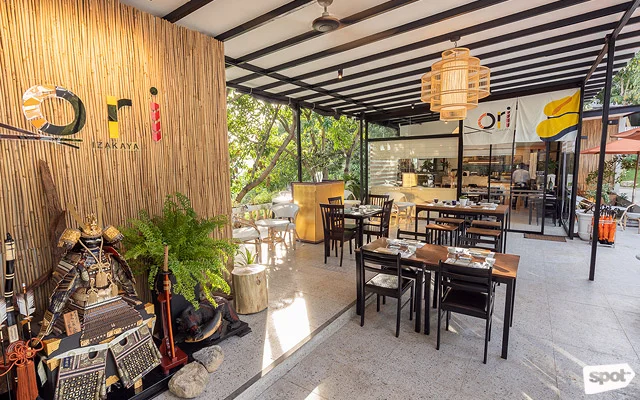 Photo from spot.ph
Location: Woodlane Events Place, Talon Uno, Las Piñas
A modern Japanese Restaurant and cafe in Las Pinas that will satisfy your caffeine and sushi cravings. Ori Izakaya & Ori Cafe recently opened its doors this month. This is Cebu's famous Japanese Restaurant and Cafe Nook is one of the best Japanese restaurants that you should try here in the South. Its elegant and minimalist restaurant ambiance makes it an Instagram-worthy place. Not only that, their food offerings are a wide selection of Japanese Cuisines, sushi menu and aburi menu, desserts, coffee, Signature Rolls, Salad, rice bowls, and udon. Typically, their Sushi platter is served in an elegant golden cage which resembles a bird cage that means "ori". If you haven't visited this Japanese and Cafe Restaurant you better be, because it is worth your money!
Price Range: 170-650/ person
Sambo Kojin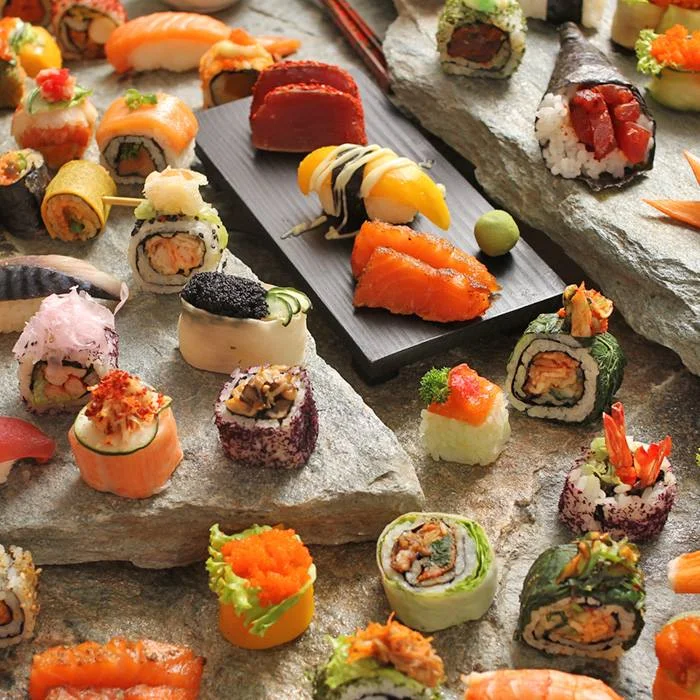 photo from primer.com.ph
Location: G/F Eastwing Food Street SM Southmall, Alabang-Zapote Road, Las Pinas, Luzon 1708 Philippines
From servings and solo ala carte meals to buffet-type Asian Restaurants, if you love Japanese & Korean food, this is the place for you. Sambo Kojin is known for its authentic yakiniku: Japanese and Korean culinary collaboration.
Sambo Kojin takes the lead in satisfying Japanese and Korean grill diners not only with its top-grade US Beef and premium seafood main features, superior grilling and food safety technology, complete newly-cooked Japanese and Korean culinary favorites but by bringing in the authentic features and origin of Japanese yakiniku houses. Offering Japanese, Sushi, and Asian cuisine in a buffet collab-type setting. From Grill Barbeques, Noodles, Sushi, Soup and Rice, Tempura, Katsu, Teppanyaki, and a variety of Japanese Specialties for the price of one. Sambo Kojin is a place for all Japanese & Korean lovers who love to get a taste of the featured Korean and Japanese food in their favorite series. Imagine all these mouth-watering and full-of-flavor dishes for only P758 per person, you definitely need to tick this off your list.
Price Range: P758 to P1088 (Vat-inclusive and no-service charge)
Hainanese Delights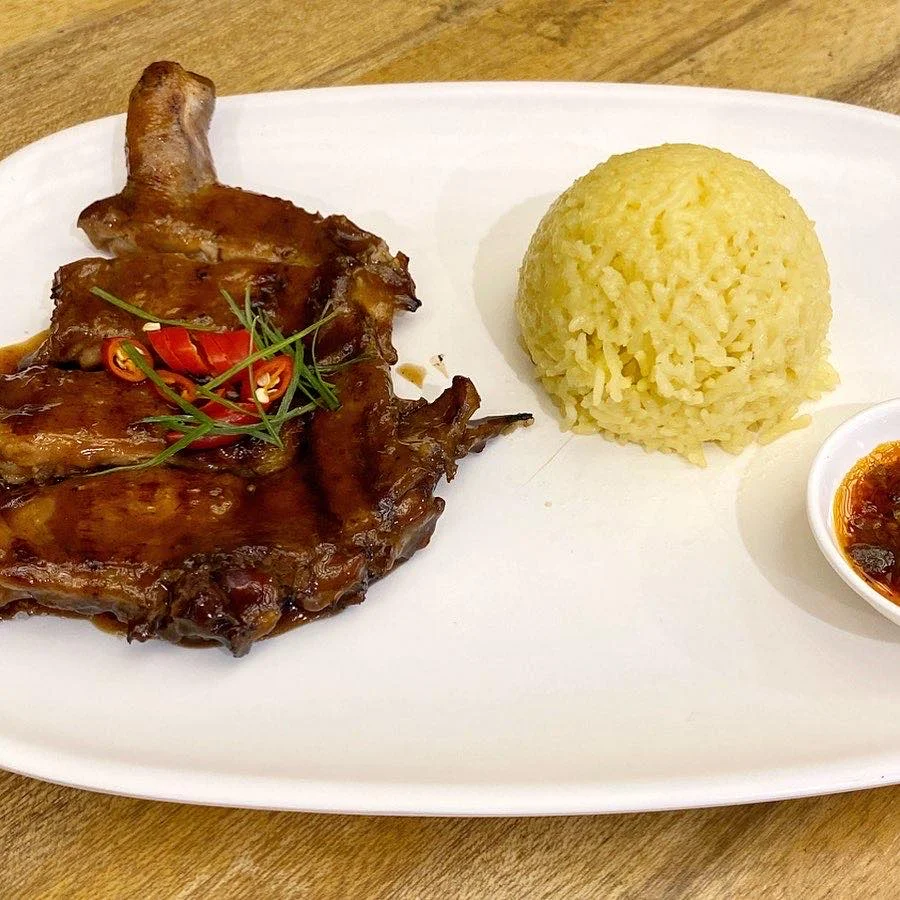 Photo from alwayshungry.ph
Location: Robinsons Place, 315 Alabang–Zapote Rd, Las Pinas, Metro Manila, Philippines
With foods from Japan, China, and Korea, let us have a glimpse of this Singaporean Restaurant. The Chinese and Singaporean menus attract people searching for a new experience, so if you're craving for Singapore's famous Hainanese Chicken, you must try this Restaurant. The recipe for the success of this restaurant is its tasty fried chicken, chili, and Hainanese chicken rice. Their signature Hainanese Chicken is moist and their ginger sauce is very good, especially at the price point. Drenched in a subtly sweet and savory sauce, the steamed chicken offers a taste that goes far from the same old boring one we usually have (i.e. fried food and dishes). Plus, you can mix up your own additional sauce for this (e.g. ginger, chili sauce, soy sauce, or a combination) They also serve Hainan Fish Fillet, Spicy Fried Squid, Dumplings, Stir Vegetables and Tofu, Chapchae all of come with unlimited rice and free broth soup. Hainanese Delights proved that it is worthy to be tried! If you just want something affordable yet a little out of the ordinary, then Hainanese Delights may be great for you! For good adventure seekers, you may not find the thrill here, but it wouldn't hurt trying, would it?
Price Range: P300 to P1,000+
Wagyuniku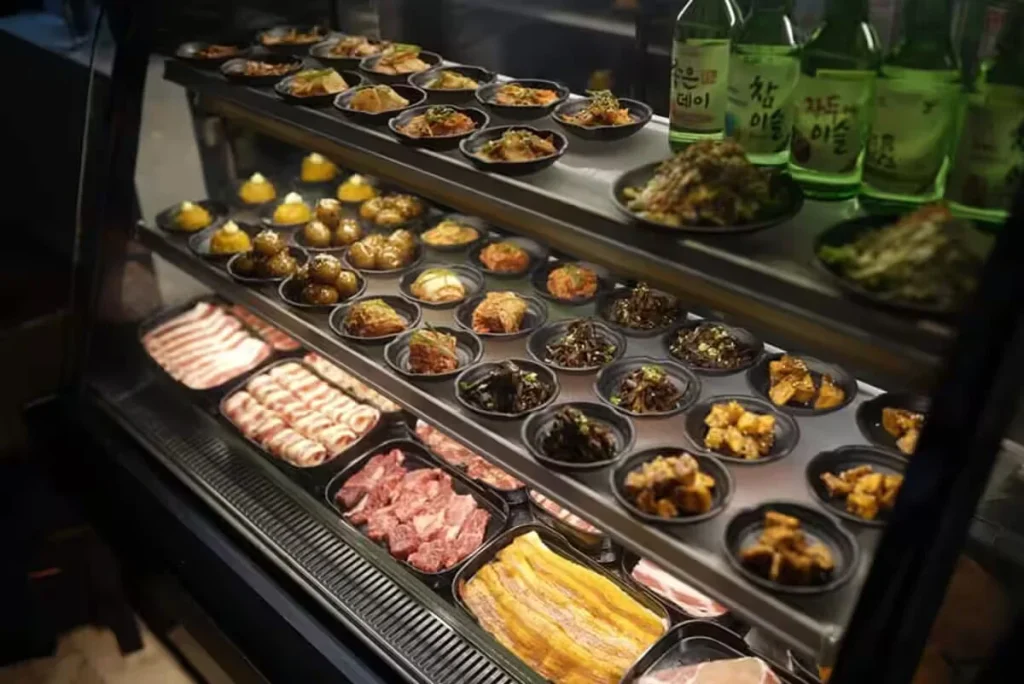 Photo from zomato.com
Location: 89A Gloria Diaz Street, BF Resort 1700 Las Piñas, Philippines
Wagyu beef? Or cubes? You wouldn't have to choose between the two for this Korean-Japanese Barbeque Restaurant serves both! Wagyuniku is also a samgyup-type restaurant that offers both Japanese and Korean flavourful meats and seafood. If you are looking for quality yet authentic Japanese and Korean food, Wagyuniku is one of the best places to visit. Unlimited Barbeque, Pork, Chicken, Wagyu beef or wagyu cube, scallops, shrimps, salmon, squid, tempura, and chicken wings top it off with Soju. Price starts at P499 for their Premium combo while unli-meat and seafood start at P599 per person.
You can also enjoy unlimited cheese with these feastful dishes.
Just imagine it's a rainy evening and you just finished watching your favorite K-drama series, and you missed the taste of samgyupsal with friends and loved ones. Isn't it a wonderful experience to visit Wagyuniku today?
Erawan Thai Street Food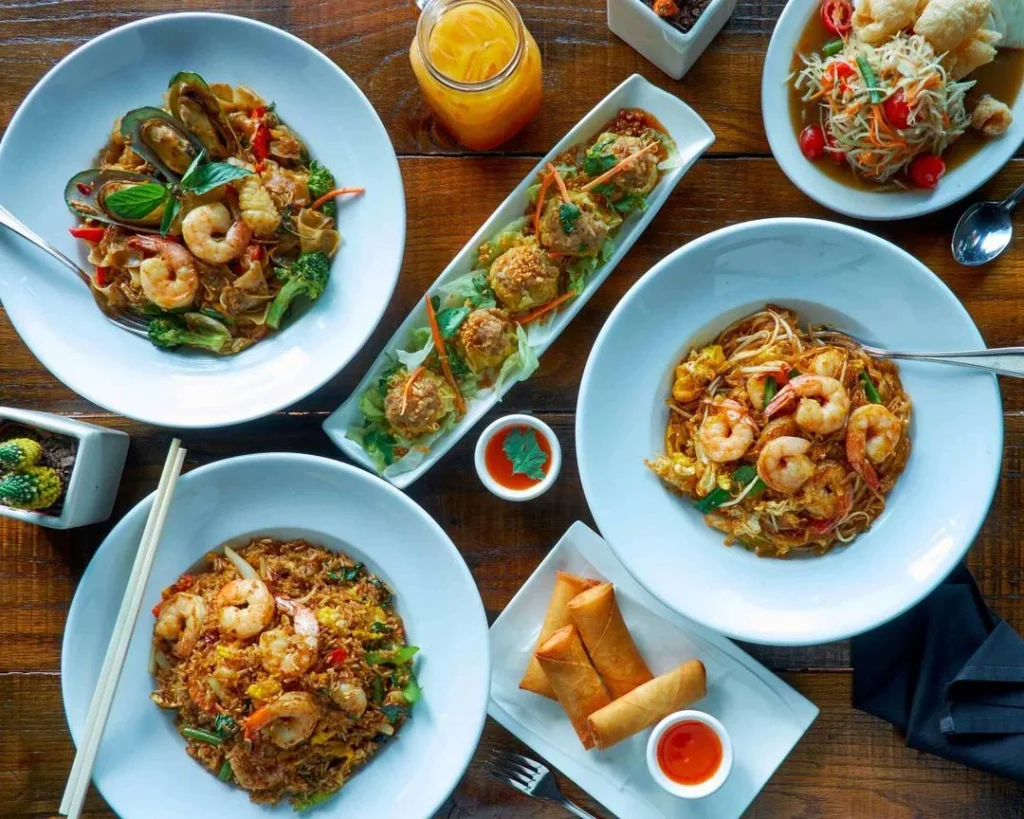 photo from ubereats.com
Location: J.B. Tan St Casa California, BF Resort Village, Las Piñas
Sawadee ka! Finally, we could not forget on the list of Best High-End Restaurants in Las Piñas – this famous and underrated Thai Resto called Erawan Thai Street Food. If you've been to Thailand and missed the Thai ambiance, this entire restaurant will give you the Thai vibes you are looking for. It is a nondescript place along BF Drive that serves delicious Thai food at a great price point. They offer different Thai cuisines such as Khra Pao, Khrao Man Gai, Tom Yum, Fresh Spring Rolls, Chicken Pandan, Thai, Mango Sticky Rice, and Thai Milk Teas. Highly recommended dishes are their famous Padthai, Thai fried rice, Chicken Curry and Crispy Fish. They also party trays and menu bundles for two pax like Bangkok Bundle Meal, Phuket Bundle Meal, and Pattaya Bundle Meal that start at P565 pesos. Definitely worth every cent, Drop by if you're within the area. It is quite a surprise to try this Thai Restaurant.
Price Range: P170 to P1,500
There you go. Our List of the Best Asian Restaurants You Must Try in Las Piñas City. There might be a lot of restaurants and food shops that you must try and are also underrated waiting to be discovered, maybe it will be your turn next time to explore and get to know more about different Asian restaurants in Las Piñas City to add to this list.
All these palatable and scrumptious Restaurants are just a 10 to 20-minute drive to Villar Land Global South's first Residential Resort-Inspired Condo Development called The Hermosa. This pre-selling and ongoing development Project has close proximity to the country's main international airport, NAIA in Paranaque City, and a short drive to Entertainment City and Mall of Asia.
The Hermosa Project by Vista Land in Las Pinas City (5th Building- Las Palmas)
A sprawling and verdantly landscaped condominium village complemented by resort-inspired amenities that give a refreshing ambiance to modern city living. It has continuously been a testament to its potential as the metro's breakthrough city. One of the most in-demand urban vertical villages in this city blends the promise of progress with a uniquely beautiful lifestyle in a modern development- The Hermosa.
Start your new story at Hermosa and create the life you deserve where ultimate modern city living meets and speaks value.
Related Blog: Buon Appetito: A Guide to Italian Food