Ever since the pandemic came, it changed the course of everyone's lives. Everyone is suddenly not allowed to do all the things that they can normally do before. One of which is going out. You have been locked inside your house and lot in Daang Hari for such a long time.
Almost everything shifted online—classes, check-ups, catching up, ordering food, and shopping. The digital world became one of the ways why almost everyone was able to cope with life. But there is no denying that physically visiting a store and pushing a cart is far better than browsing on your phone and adding everything to your cart.
Now that everything is slowly going back to the way it used to before, you can now go out, feel the fresh breeze grazing upon your skin, and visit malls and shopping centers that you have missed. You can now finally take yourself on a date, or your family, friends, and significant other. What's far better is that there's a shopping mall situated near your house and lot in Daang Hari and other popular neighborhoods around Alabang and that is the Evia Lifestyle Center.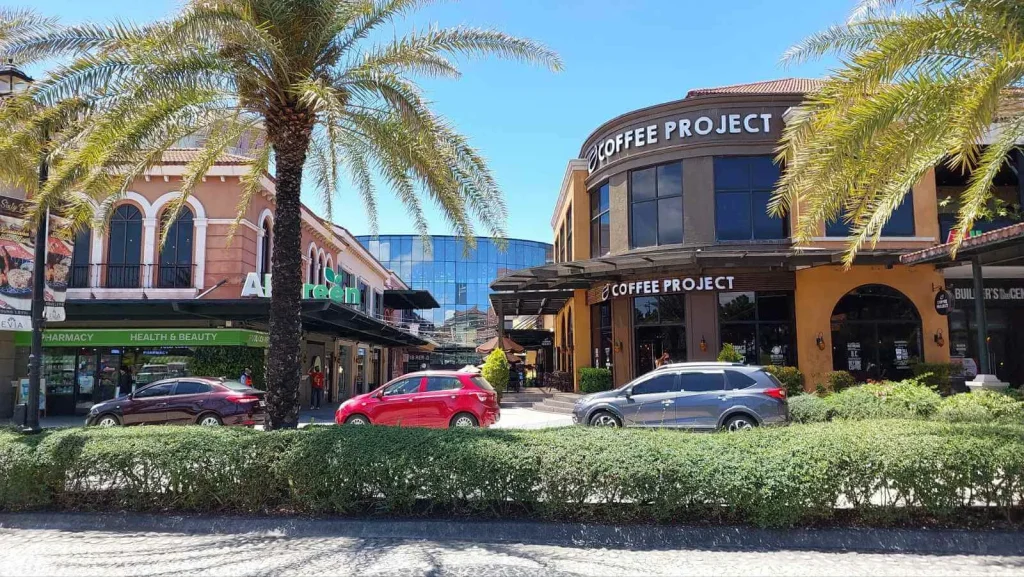 What is Evia Lifestyle Center?
Greatly known for being the South's Crown Jewel, Evia Lifestyle Center operated by Vista Malls under Vista Land is part of the planned community of Vista Land in South Vista Alabang.
With its highly unique and captivating architecture, Evia Lifestyle Center is the home for international and local brands that makes shopping extra enjoyable. This shopping mall opens doors to a new kind of experience that everyone should not definitely let slide. With its wide selection of everything from entertainment to different kinds of clothing, home needs, up to a wide variety of dining destination.
Evia Lifestyle Center elevates your humble beginnings into a more luxurious lifestyle. It is situated in Vista Alabang, Daang Hari Road, Almanza Dos, Las Pinas City. It opens its door to everyone from 10 AM and closes at 9 PM every Monday to Thursday and 10 PM every Friday to Sunday. To stay more updated about Evia Lifestyle Center, you can visit their Facebook page or their website.
What's in store for you at Evia Lifestyle Center?
And if you thought you know Evia Lifestyle Center so well already, it still has a lot of things to offer. Dive in deeper for here's a guide to the Different Stores in Evia Lifestyle Center that you must try and visit.
Vista Cinemas
Vista Cinemas of Evia Lifestyle Center can be found on the 4th floor. It has whole new different features that you can only see in this cinema. One of which is the IMAX with Laser gaining attention for being the only theater with IMAX in the Philippines. The Laser Projection Technology and Dolby Atmos give a new experience to viewers for the movies they will be watching are shown in a more enhanced resolution and excellent audio quality. Aside from that, Vista Cinemas has an MX4D Motion EFX Theatre that takes the 4D experience to a whole new level because the seats and the whole theater surrounding have a built-in motion that makes you experience what is happening on the screen. Moreover, if you want a more private watching party with your friends and family, book their comfortable and luxurious VIP theater.
AllDay Supermarket
Running a little bit low on your supplies and groceries? Need not fret for AllDay Supermarket in Evia Lifestyle Center got your back! With its air-conditioned supermarket, you'll able to roam around and tick items on your grocery list with comfort. Another fact about AllDay Supermarket is that it is the first self-checkout supermarket here in the Philippines. Furthermore, for everyone's convenience, a roving machine is also moving inside the store. A collection of food stalls also exist within the supermarket offering rice meals, sandwiches, pasta, and unique Asian dishes such as Takoyaki, and Pad Thai.
AllHome
Renovate your house into your dream home with AllHome. It has a wide variety of quality furniture, appliances, decors, and electronic devices that will help complete your home. May it be for your living room, kitchen, or bedroom, AllHome is a one-stop shop that has everything you're looking for.
AllDigital
Occupying over 600 sqm in the Evia Lifestyle Center, AllDigital is a shop that caters to all of your technological needs. You can find here the newest technological innovation which offers a myriad of gadget options from cellphones, laptops, and drones, to collectible toys, scooters, and game consoles. Elevate your gaming and technology experience with AllDigital.
Market Liberty
Find all your lifestyle needs here in Market Liberty. With a wide collection of clothes, skincare, accessories, bags, crafts, and school supplies, Market Liberty is committed to helping small brands reach a wider range of audience by bringing them inside a shopping mall. Support startups and small brands while buying things that are wallet-friendly.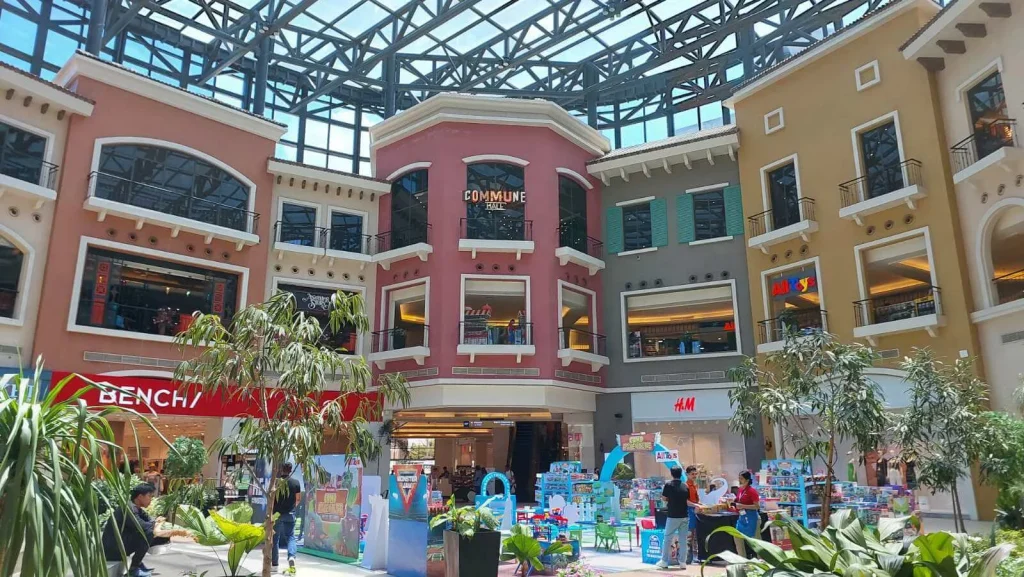 Commune Hall
Feast on the exceptional interior of the Commune Hall of Evia lifestyle center while feeding your tummy with different cuisines across the world. It offers sumptuous Japanese, Mexican, Korean, Filipino, Middle Eastern, and American food. Get a taste of different countries' food with Commune Hall.
Vista Owned stores
Since Evia lifestyle center is under Vista Land, various Vista Owned stores can also be found in the place. Satisfy your caffeine and sweet cravings with Coffee Project, Dear Joe, Coffee Project Black, Bake My Day, and Bread Basket. Dine with your family and friends in different restaurants with quality food offerings like AllAmerican, AllGreen, San Marco, Happy Magnolia, Another Story, Sombrero, Sixty-Four, and Cheesecake Fairy. Tiger Leaf offers a unique mix of dishes from Southeast Asia. Take a break and take yourself on a little pamper day in the Botanica Salon. Let your kids play and have fun in Kinder City. Stores such as AllToys, and AllSports can also be found in Evia.
Restaurants
Grab a bite and taste the different dishes in the different restaurants that you can find in Evia Lifestyle Center. Taste the unique Italian dishes from Italiannis and Mama Lou's. If you have pizza cravings, don't forget to try the California Pizza Kitchen perfect for hangouts and family bonding. You'll literally say Thank God It's Friday with TGI Fridays while indulging in their American-style burgers, chicken, salad, etc. Have a different experience with a Hibachi Grill Restaurant in Teppanya. You can also try Peri-Peri Charcoal Chicken, Teppanya, Cibo, Hap Chan, Bulgogi Brothers, Krispy Kreme, Mesa, Watami, Botejyu, Pancake House, Modern Shanghai, Brother's Burgers, ColdLayers, All4U, Yellow Cab, Pepper Lunch and more. Fast food selections such as Popeye's and McDonald's are also available.
Clothing and Retail
Find the best clothes with the different clothing stores in Evia such as H&M, Uniqlo, Bench, BAYO, Sperry, Vans, Move, Res Toe Run, and Coalition. You can also find new glasses with Sunnies Studios and Owndays. Get a new watch with the 3 watch stores found inside the mall: from Fossil to brands such as Seiko and Hublot.
Other stores and establishments that you can explore are Fully Booked for book lovers out there, pamper yourself in SkinStation, satisfy your coffee cravings with Starbucks, finish your banking tasks with BDO, and so much more. Don't miss out on this opportunity and experience and visit Evia Lifestyle Center.
Read more: Why You Should Visit Evia Lifestyle Center in Daang Hari