Is your kitchen in your RFO House and Lot looking too bland? Planning to have a kitchen remodel? Well, you're in the right place! Kitchens come in all shapes and sizes, and you can be spoilt for choice with kitchen layouts and formation options when starting out on a project. The key is to take things slowly and think carefully about how you use and move within the space.
Let us walk you through it! Here, we prepared a list of the things that you must consider in planning a kitchen. This blog also includes the understanding of the kitchen layout for you to better maximize your space, and we also suggested some kitchen designs that you might wanna try in your RFO House and Lot! Excited to turn your kitchen into a beautiful and convenient working space? Then let's get right into it!
Things to Consider When Planning to Make Your Dream Kitchen
1. Layout
Setting out the kitchen plan should be the first thing you do before paying attention to any other details. This involves considering where to place the kitchen's major fixtures, including the dishwasher, counter, refrigerator, dining table, and chairs. Make sure the entire layout seems organized and efficient and make sure you have enough space. You don't want to have a messy layout and assume that everything is in order. By doing this, you can make sure that the kitchen's structure is effective and useful.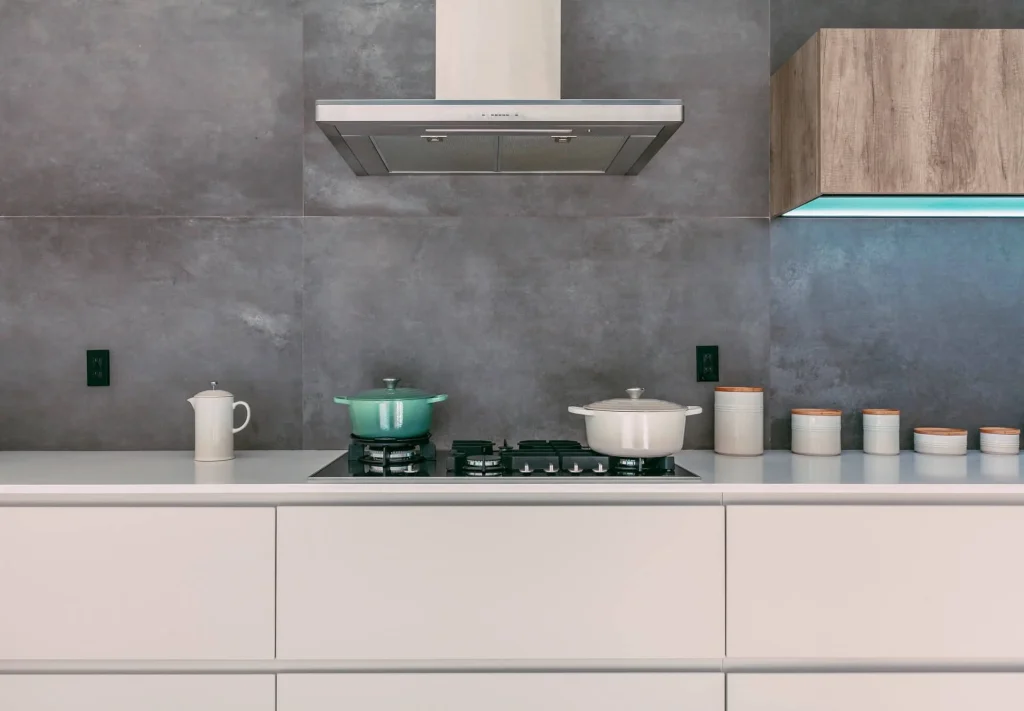 2. Ventilation
While you're doing it, you should also think about the right ventilation. Air in your kitchen will be properly circulated thanks to ventilation. It is essential whenever you cook or prepare food, and it is much more important while trying to keep your kitchen's aroma intact. You wouldn't want the fragrance of the meal you cooked to linger there for very long, of course. For the ventilation in your RFO House and Lot kitchen, it is advised to use a high-quality range cover with a potent extractor.
3. Lighting
Additionally, the illumination in your kitchen should not be disregarded because it helps create the ideal ambiance. Your kitchen's atmosphere will be determined by the lighting. In addition to this, the range of light sources in your kitchen will assist you in securely preparing and cooking meals. For your kitchen, there are several lighting alternatives to take into account. For instance, you could wish to add pendants to improve the lighting or provide ambient lighting for the entire space. Add task lighting if you plan on doing work in your kitchen. Don't forget to make use of the natural light available around you.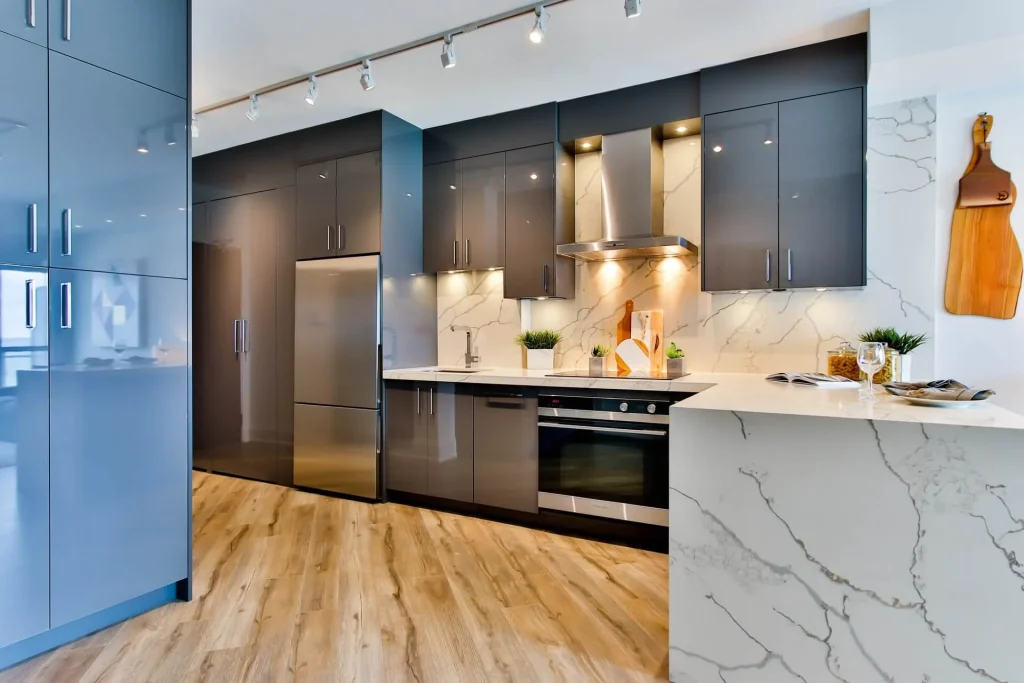 4. Flooring
Make sure there is adequate space in your kitchen's floor design between the island and the cabinets to allow for easy movement. Pathways in a kitchen should typically be at least 36 inches wide. A one-cook restaurant should have an aisle that is 42 inches wide, while a two-cook setup should have an aisle that is 48 inches wide. Kitchen counters and peninsulas should be planned properly.
5. Storage 
Last, but certainly not least is the storage. You will need to store many things in your kitchen. Plan ahead even if you still have a small amount because accumulating stuff will happen. Have enough counter space, lower cabinets and upper cabinets space in your RFO House and Lot kitchen. If you're planning on having a pantry in your kitchen then invest in a good shelving unit. If you have a rather small space in your kitchen, invest on things you can put on your wall such as wall hooks and etc. Planning ahead can make all the difference. Think about which small appliances you'll use in the future. Will you have space for a microwave oven or a coffee machine?
Kitchen Layout
Having to wade through each of the kitchen layout ideas to discover the best one for your space and budget is the first and most crucial step, regardless of whether you're planning a kitchen makeover or creating one in your new house.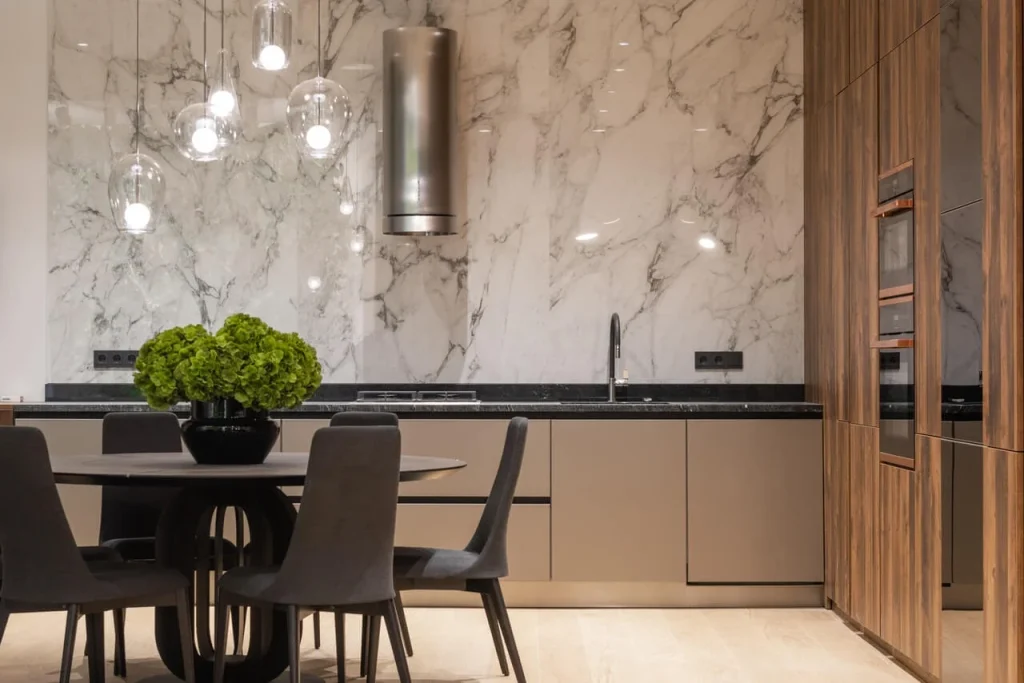 Let's understand what a kitchen work triangle is. The meal processing area, the cleaning area, and the meal preparation/cooking zone make up the three primary work zones of your kitchen, forming the kitchen work triangle. When your kitchen is ready, you need to be able to draw a triangle-shaped metaphorical boundary between the zones. It's all about being effective. The distance between these three zones ought to be no more than three to four feet to allow for quick transitions between them. The connection between the sink and the cooktop is the key component of the work triangle. For ease of movement between your dinner and the dishes, while you cook, we advise having them on the same section of the counter.
Here are some kitchen layouts or designs that we recommend:
U-Shaped Kitchen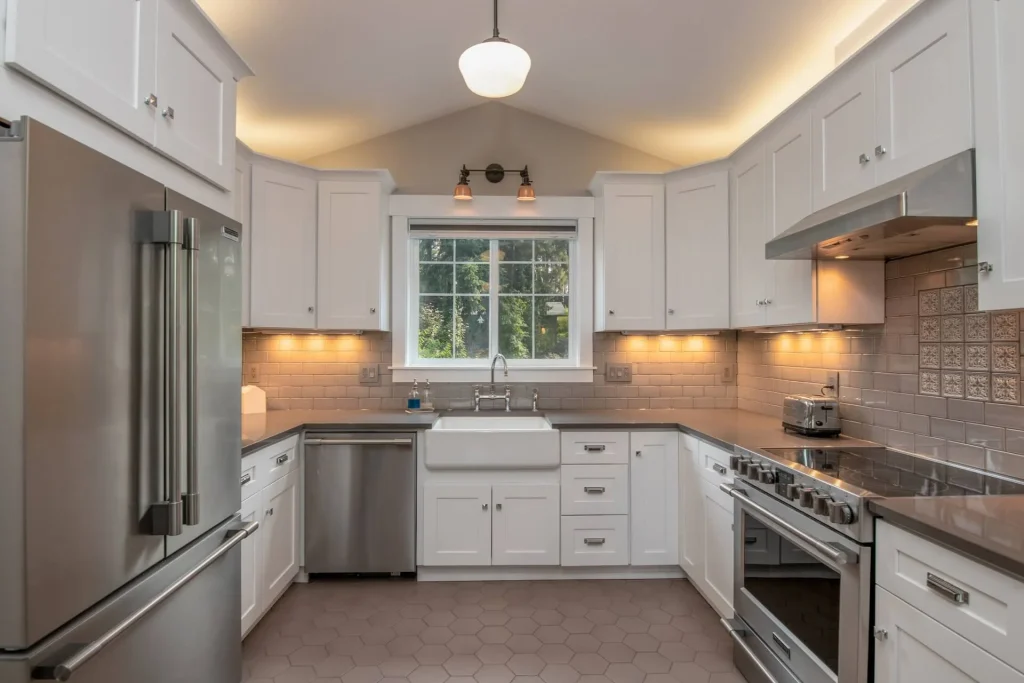 Just as it sounds, a U-shaped kitchen arrangement is set up. Three distinct walls are lined with shelves and appliances, forming a U-shape with an opening at one point. Large rooms are preferable for this kitchen arrangement, which can also serve the demands of several families. With so much floor space and storage, U-shaped kitchens make it simple for the whole family to assist with dinner preparation. It's also among the simplest designs for setting up a productive work triangle. Many U-shaped kitchens are enclosed, isolating your RFO House and Lot dining room's clutter from the kitchen's mess. It specifies the area you have for socializing and feasting.
Kitchen Island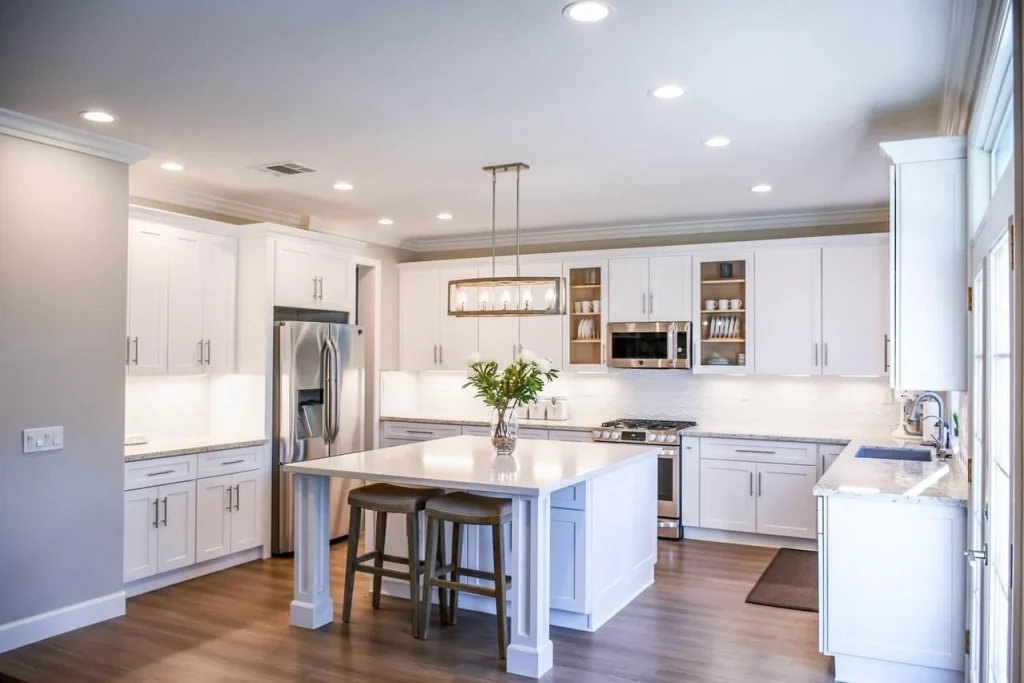 Kitchen islands are great for enhancing storage and space for storage. The majority of kitchen islands have base cabinets for storing kitchen necessities on one side. On the other hand, a lot of islands include extended counters for seats. You can easily create a wonderful informal eating area by adding a few stools! Some homeowners opt to put a sink on their kitchen island rather than against a wall for their kitchen sink. Putting a flat stove stop on your RFO House and Lot kitchen island will allow you to place your cooking station there as well.
Galley Kitchen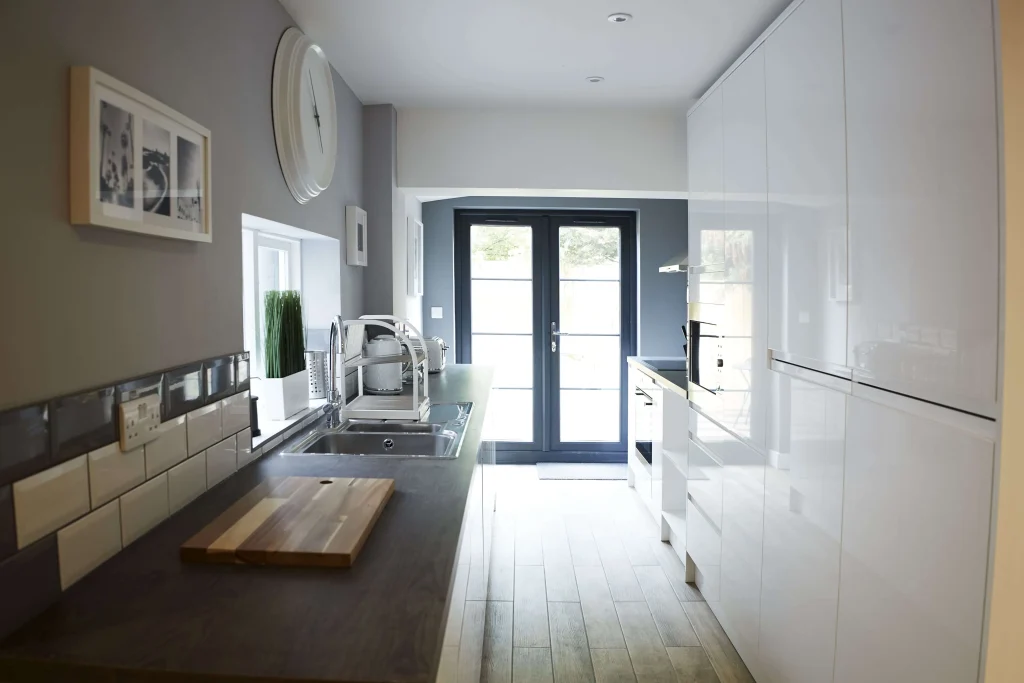 Looking for a space-saving method? Your greatest option could be a galley kitchen! In this kitchen's design, the counters and equipment are arranged on parallel walls, and the passageway has doors leading into separate rooms from both ends. Galley kitchens free up space that is occasionally lost to awkward corner cabinets. Place the refrigerator and extra compartments on the wall opposite from the sink, dishwasher, and oven to enhance the effectiveness of the work triangle. Galley kitchens must have a wide, unobstructed path. Ensure that each wall's cupboards and appliances are separated by at least four feet.
L-Shaped Kitchen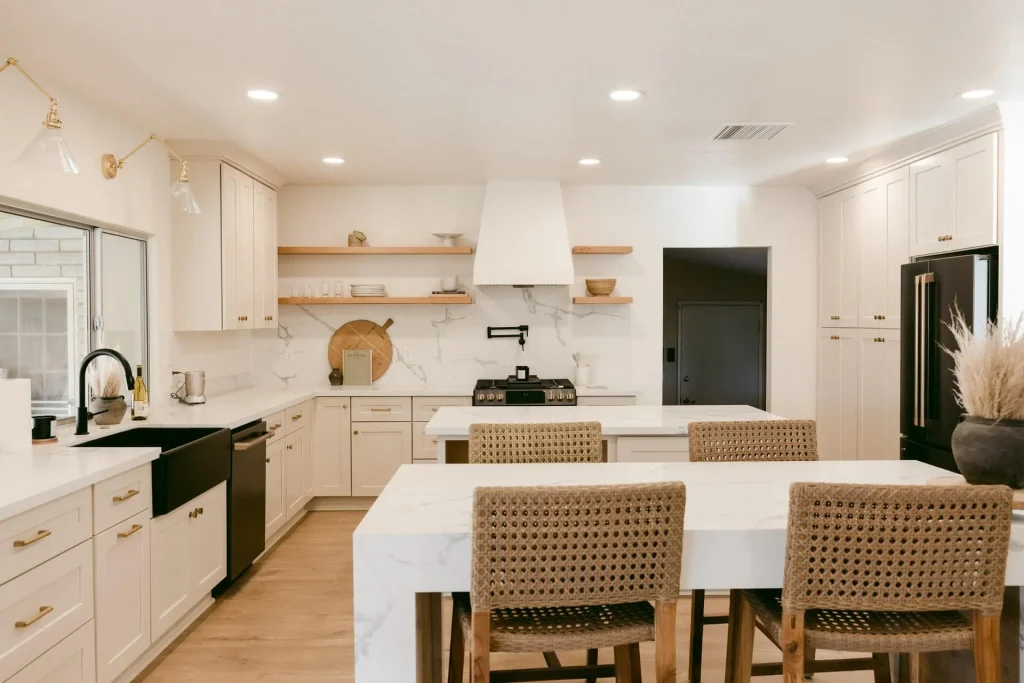 L-shaped kitchens seem to be very identical to U-shaped kitchens, with the exception that they are organized in an L-shape and have cupboards and appliances put along two walls rather than three. L-shaped kitchens are excellent for making the work triangle as productive as possible. Moving between working areas only a few short steps. It typically features two open sides for convenient entryways since they are nestled into nooks where walls meet at a 90-degree angle. It is also a fantastic match for open-plan living, which is a current home design trend. L-shaped kitchens readily flow into the next rooms since they are only arranged along two walls. Your kitchen should ideally open up to your dining area or living space.
The kitchen is a space for family meals and good stories. Hopefully, these tips can give you great help in your RFO House and Lot kitchen design. Creating your very kitchen, to your own liking is a great deal. But if you don't fancy doing so, it wouldn't be bad to consult with an interior designer.
Read more: Splurge or Save: Kitchen Edition