Sebastian Teves is an IRONMAN Certified Triathlon Coach, Licensed Physical Therapist, and Triathlete. Among his many triathlon achievements, he has achieved the record for being the "3rd Fastest Filipino at the IRONMAN 70.3 World Championship 2023 in Finland." 
Sebastian went from one sport to the next in an attempt to give his body some, if any, form of physical activity. That is, until the day came that his calling of joining a triathlon came in the form of a suggestion; and taking this suggestion set Sebastian on the path that would take him to the triathlon world stage, the IRONMAN triathlon.
This accomplished triathlete may have piqued your interest in knowing more about his journey. If this is the case, then this interview article will share with you the struggles and valuable insights embedded in Sebastian's story.
At present, his story has led him to his next destination, the city of Puerto Princesa, wherein lies a haven for professionals and tourists, Praya Estate, Vista Land's prime offering in this beautiful city.
To begin with, Sebastian Teves' journey brings with it the hope of achieving one's ambition of becoming a triathlete regardless of where you start with your physical fitness or personal circumstances. He started his athletic journey in high school, where his first source of motivation was to attain better physical fitness to face his being self-conscious of his weight.
At present, he is competing in the IRONMAN 70.3 Puerto Princesa triathlon qualifying race on November 12, 2023, to gain another shot at the world championship triathlon. 
Within the heart of Puerto Princesa itself is Praya Estate, a premium mixed-use real estate development that houses: Alia by Crown Asia—a mid-rise premium condominium development inspired by Bali architecture, Veraia by Camella—a house and lot community with an Italian theme, and Solreia by Brittany—a luxurious take on leisure development featuring a mix of residential and commercial areas.
Athletic Background
Tell us a bit about your background in triathlon and how you got started in the sport.
"All right, so a bit of background: I actually started triathlon late. I saw the triathlon as a way to lose weight. My first sport was when I was in high school, I was actually an archer. I was into archery. And back in high school, I was overweight. I was overweight, getting close to obesity. Then I decided that, maybe, I should start doing a sport or an activity where it puts a bit more strain on the body – to lose weight.
I started running and joined a local run club. Eventually, there were a few runners who were also cyclists. I got into cycling and eventually, our swim coach, who was also in our run club, invited me, 'Why don't you just try out the triathlon? Why don't you try out doing a sprint triathlon?' I think this was 2012, somewhere around March 2012 [that] I joined my first triathlon. 
It was pretty grueling. I didn't know how to swim that well yet. I survived the bike and run. And after that, I got hooked. I was joining triathlons from 2012 up until 2015. And I was pretty good at it. I was winning my age group and all that. 
But when it got to 2015, I hit a crossroads where I had to choose either to pursue triathlon [and] try to get into the national team or finish my studies at university. 
Of course, my parents told me that [I] have to finish university before doing anything because they think that triathlon is not a real job [and] being an athlete is not a real job. I had a hiatus from 2015 up to late 2019. I focused on my studies, got my degree as a physical therapist, and got my license.
After that, the first thing I did [is] I went back straight into triathlon. By this time, I knew that I really didn't have a chance in the shorter distance [races] or getting into the national team because it was [too] late. So, I focused more on the commercial races like the IRONMAN Triathlon – longer distance [races].
Then in 2020, I started coaching. I started coaching as a triathlon coach. Then just recently – actually, just last week, I got my world triathlon coaching certificate in Vietnam."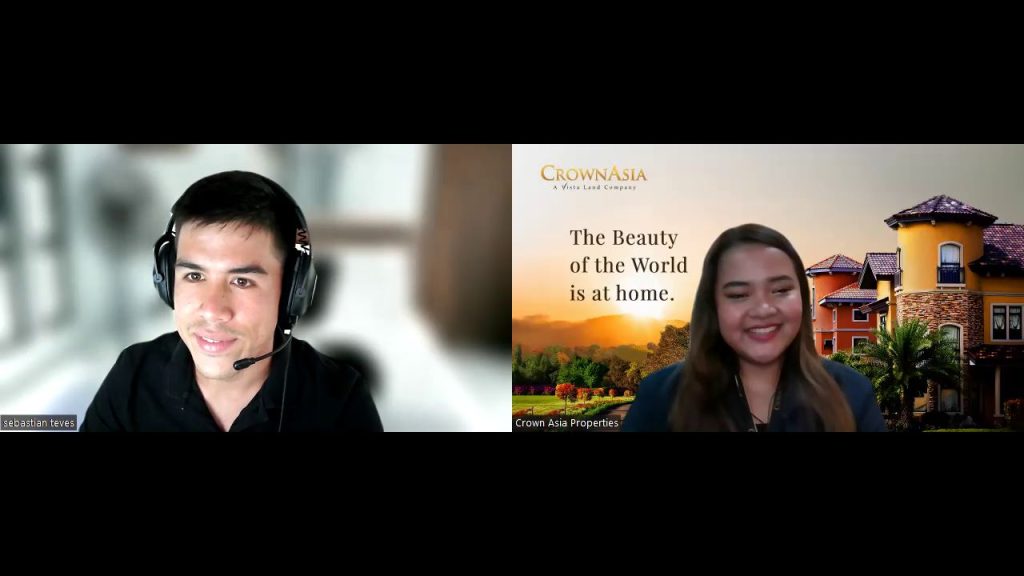 Athletic Achievements
"Ever since 2019, I got back into racing. I've been doing well in my age groups, winning races, and just last year, I qualified for the World Championships this year. So back in August, I did the IRONMAN 70.3 World Championships in Finland. 
I was the third fastest Filipino [in the IRONMAN World Championship]. And the goal is, for these upcoming races, especially this one in Palawan, it's another World Championship qualifying race. So, I hope I do well and qualify again to do another bid for the World Championships."
Sebastian Teves' achievements include the following:
2022 Achievements
3rd OVERALL 5150 Subic Bay 2022
IRONMAN 70.3 Cebu 2022 (4:49)
IRONMAN 70.3 Davao 2023 (4:11 excluding Swim)
2023 Achievements
3rd FASTEST FILIPINO at the IRONMAN 70.3 World Championships (4:43)
3rd PLACE AG IRONMAN 70.3 Subic Bay
1st PLACE OVERALL Bayawan City Triathlon (2:08)
3rd PLACE OVERALL Dumaguete City Triathlon
2nd PLACE AG Dipolog Triathlon
IRONMAN 70.3 Davao 2023 (4:11 excluding Swim)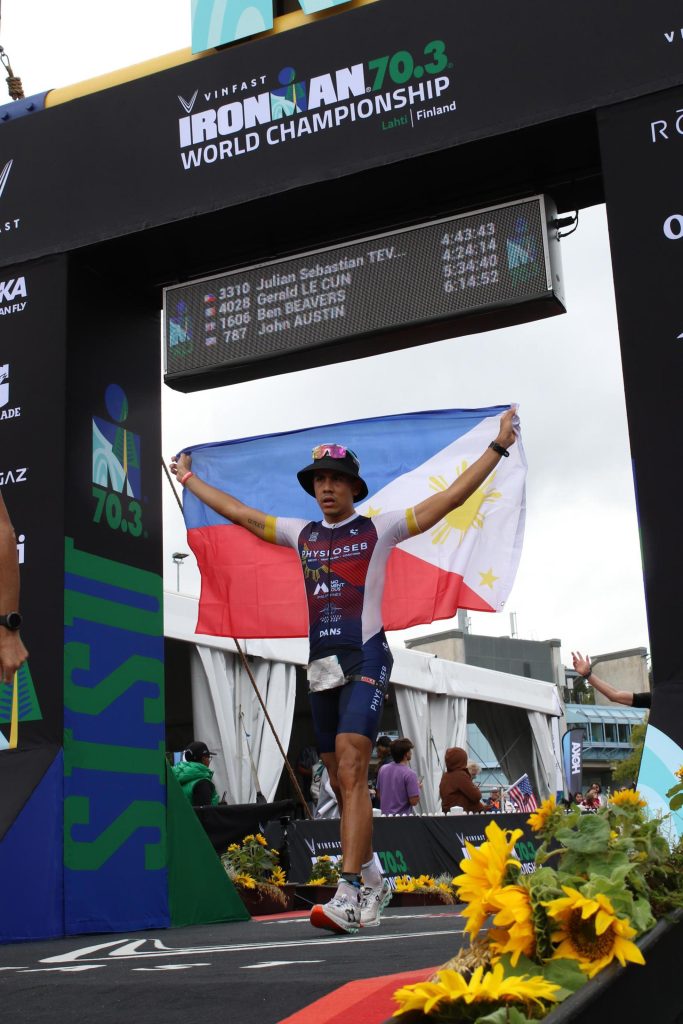 Training and Preparation
What is your typical training regimen and how do you balance swimming, cycling, and running?
"For example, the preparation for this coming race, Ironman 70.3 Palawan, the typical training regimen is practically no days off. So how do I balance swimming, cycling, and running? I'm doing each discipline around three to four times a week.
Four times a week – three or four times swimming in a week, three or four times cycling in a week, three or four times running in a week. That's spread out through each day of the week. Typically, I do two disciplines per day and in a week, so I would probably total around 15 to 20 hours just training."
What's your favorite discipline in triathlon, and why?
"I think my favorite discipline would be the bike because you're not drowning and in the run. I mean, I think everybody has tried running. It hurts. It hurts the lungs; it hurts the legs. So, I think because the biking or the cycling is so much fun, I think that's why it's my favorite."
Overcoming Challenges
Triathlons can be physically demanding. How do you manage and prevent injuries during your training?
"The nature of the sport of triathlon [is that] it's a very… mundane sport, meaning, when you train, it's repetitive stress over and over again. The types of injuries you would typically get as a triathlete are repetitive strain injuries. These usually come up due to lack of sleep, lack of nutrition, lack of hydration, and of course, overloading or overtraining. 
As long as you've got these four aspects covered, it's not 100% sure that you're gonna have zero injuries during your season, but it lowers the chance – of getting injuries. 
As long as you're on top of your rest, as long as you're on top of your nutrition, as long as you're on top of your hydration. And as long as you know that you're not overloading too much, especially coming into big races, that's the best way to prevent [injuries]. 
And of course, seeing your physical therapist, doing rest and relaxation, getting a massage, doing proper stretching, mobility work. That all plays into managing and preventing the injuries in triathlon."
Triathlons often test mental resilience, aside from the physical side. How do you stay motivated during challenging moments in a race?
 "[Mental resilience is] a very overlooked aspect when getting into triathlon or when getting into endurance sports. So, my personal views on this: I think, especially when you're in the race, I would say it's 80% or even 90% mental.
You're put in a race with guys who are stronger than you, who probably train more than you or train the same as you. It all comes down to who wants it more – who's mentally willing to suffer." 
How do I stay motivated? I don't think it's really like motivation. It's more on telling yourself that, 'Okay, today, it's gonna be a really painful day.' So, preparing yourself, conditioning yourself that it's gonna hurt so much. It will somehow prepare you better.
[It will] prepare you better, rather than saying, 'Ah, today, I'll see how much I can push myself and all that.' The way I approach it is I know this is gonna hurt.
There are gonna be times that I may want to quit, but it's gonna hurt more finishing the race knowing I didn't give it 100% rather than talking to yourself in the race saying, 'Okay, maybe you should hold back or you shouldn't push as much.' It's 90% mental in a triathlon."
How does your background as a Physical Therapist help in becoming a Triathlete?
"Oh yeah, very handy. Getting into a triathlon or any endurance sport or any sport – it will come to a point that you will eventually get injured. And it's always better to have someone at bay in case things like these injuries come up. 
So even my athletes, to my athletes, I always ask about their history, medical history, and injury history. It's always nice to have a PT at bay. Since I have a degree in physical therapy, it's very handy. I know how to manage these injuries. I know how to prevent these injuries.
It's a really big plus. Being a PT as well as coaching my athletes as a PT. I can help them prevent or resolve their injuries – whatever may come up."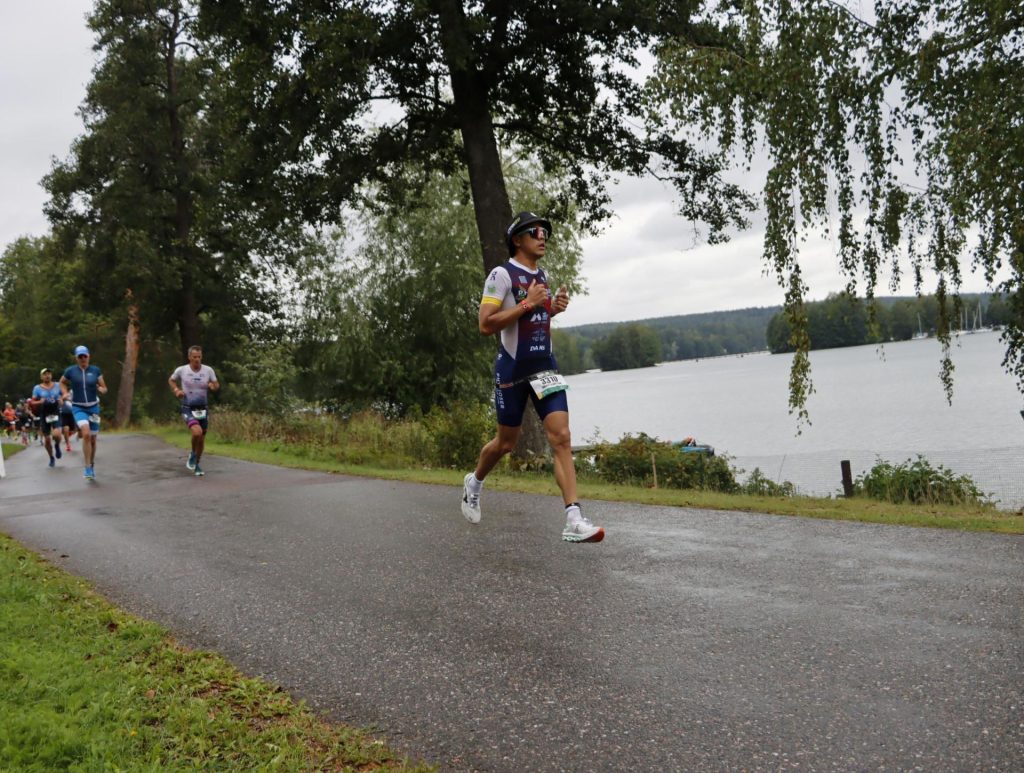 Inspirations, Motivation, and Advice
What advice would you give to someone considering getting into triathlons?
"Getting into triathlon, you really have to have your 'why.' Why are you joining? What's the end result here? Am I here to just join a race and just quit? Or am I here to be a lifelong athlete? 
You really have to know why you're getting into the sport. Of course, once you figure that out, if you have zero experience, find a coach. Find a good coach or find a good support group who have guys and girls who are also into triathlon. And you can start out from there. You can start out from there.
Talk to people, learn from people, learn from coaches. Be like a sponge. Try to absorb everything and enjoy. Enjoy the process. If you're joining it just because you want to win or you want to show that you're better than him or her or whoever, always remember that you have to embrace the process. Good things take time. 
I've dealt with a lot of athletes who go under [my] coaching and after just a few months of not getting results, they're like, 'Why can't I be fast as that guy? Why is he faster than me [even though] he's older than me? We started together with this guy, but why is he progressing faster than me?'
Different people, different outcomes, you have to enjoy the process. You have to trust and enjoy the process, especially when getting into triathlons.
What are some must-haves in your home as a triathlete?
"In the house, of course, being an endurance athlete, you really have to have a good kitchen. Athletes, especially in our sport, eat a lot. You have to eat [and train] like an athlete.
You have to have a really good kitchen. And of course, you have to have a space – a good space for doing indoor workouts. Because it's not every day that you have good weather. There are some days, where, the weather is really not on your side. 
You have to have a dedicated area for doing your home workout – a space for a treadmill, a space for the indoor bike, and a space for maybe a mini gym for bodyweight training – aside from that, it's not really about the home itself, but rather the environment you have outside the house, your community. 
If you live in a community that is not really conducive for training, you can't do runs outside; [or] when you bike outside [and the environment is] not really conducive – that's where you're going to have problems."
Goals and Aspirations
What are your goals and aspirations in the world of triathlon?
"Back to my story [for] your first question. Back when I first started, I kind of knew that I was pretty good at the sport – winning my age groups, getting good results – [so] I always wanted to be part of the national team. 
But that's the thing – when my parents told me that you have to finish university first before doing whatever you want, that kind of took away my chance of that goal. So right now, getting back into the sport. My 'why' is to see how much I can push myself, to find my limits, [and] to see if I could perform better in the world stage.
And the goal is to get a really good result or [to] first to qualify for the Ironman World Championships, and to see if I can push the envelope on how fast Filipinos can be. 
I'm not sure about the fastest time that a Filipino ever got in the Ironman World Championship but I want to push the envelope and see if I can break that time. That's the goal."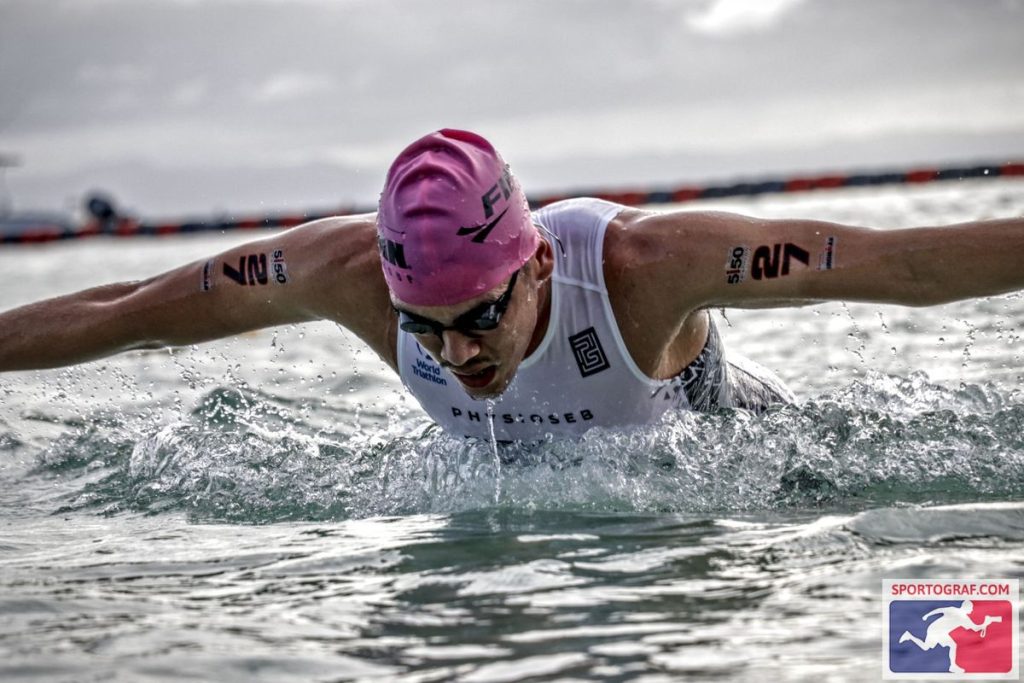 Considerations on Relocating
Have you ever had to relocate or purchase a new property due to your triathlon training or competitions? If so, can you share your experiences with the real estate aspect of that?
"If I ever had to relocate just for training and competition – no. I haven't ever tried relocating. I mean, where I'm from in Negros in Dumaguete City, it's a really good place to train – very conducive.
There are times that I did camps, I did training camps for a week or so – but no, no relocating. But I've had some athletes though who, as I mentioned before, lived in an environment or a community that wasn't very conducive for training that I myself had to suggest or advise them to maybe move or find a new place to move. That's my experience I have with moving."
Impact on the Community
Sebastian's impact on the athletic community as a source of inspiration is seen in his determination to fight for his aspiration of becoming a competitive triathlete. Despite starting out being conscious of his weight as a high school student, he pushed himself to the standard of fitness required to compete in triathlons.
Regardless of losing the opportunity to compete on the national level during his university life, Sebastian made the most out of his circumstances and instead elevated his competition level to the global level – the IRONMAN World Championship.
Puerto Princesa and the Lifestyle Provided by Praya Estate 
For his next challenge, Sebastian will take part in the IRONMAN 70.3 Puerto Princesa, taking place in a coastal city whose beauty is worth mentioning. Puerto Princesa is not just a place to hold triathlons because of its proximity to the coastline, it is also a land that can foster premium leisure developments, such as Praya Estate by Vista Land.
If you are interested in visiting Puerto Princesa yourself, then you should consider viewing Praya Estate as well, which is deemed as a convergence of Palawan's landscapes – mountains, mangroves, the sea – and urbanization. Praya Estate is a 21-hectare real estate development that integrates "cultural and wellness sophistication" through "mid-rise condominiums, condotels, and leisure-focused developments." 
Palawan was the island that was chosen to develop Praya Estate in order to take its potential as a "sanctuary of tropical wellness" a step further. The goal of this mixed-use development is to provide a quality of living that possesses accessibility and tranquility.
It may be said that the pandemic period has made the cityscape an oversaturated experience for many professionals. Among many people, there was a surge of yearning for a breath of fresh air and a lack of confinement within neutral-colored square walls. 
An abundance of space where greenery and fresh air is plentiful can be found in tropical areas such as Palawan; and in the heart of Palawan is the mixed-use development of Praya Estate – an escape from the city bustle and a haven for those looking for stillness and serenity.
Praya Estate ensures that your experience with its properties lets you experience the best parts of nature, such as its greenery, space, and calmness. Within it, there is Alia, offering "modern tropical Bali-inspired" condos, Veraia, offering "Italian-inspired homes," and Solreia, offering "condotels, condominiums, and leisure spots."
Through these developments, Praya Estate offers you choices of what kind of living experience resonates best with you.
Furthermore, in Praya Estate, there will be a bridge linking properties to the main city center. This connection will be in near proximity to the cruise port and airport. Hence, Praya Estate does not merely provide you with a direct experience with nature's tranquility that is secluded from the city; rather, this mixed-use development provides close proximity to essential services and transportation routes apart from "spacious villas" and "cozy cottages."
Keeping in mind the beauty of Palawan, Praya Estate, whose inspiration for development was derived from the ideal of "serene wellness," provides a living experience where "nature, wellness, and culture unite." And it is amidst Palawan's beauty that Sebastian will pour his all into the IRONMAN 70.3 Puerto Princesa triathlon.
If you want to keep updated with Sebastian's journey and programs, you can follow him on his Instagram account: @phsyio.seb
Sebastian advocates for the principle that one should embrace the fact that hardships will come in pursuit of a goal. Brace for the pain, trust the process, and enjoy the journey; and soon, you will find valuable things in life that will bring you peace from your hardships.
"Embrace the process. Good things take time." – Sebastian Teves